Les Tipanniers / French Polynesia – Surf,Bodyboard,Kitesurf,Windsurf – Moorea – Society Island
| | |
| --- | --- |
| Wave | Lefts and Rights |
| Ola | Izquierdas y derechas |
| Wind | SE - NE |
| Tide | All |
| Marea | Todas |
| | |
| --- | --- |
| Swell | N |
| Bottom | Reef - Sand |
| Fondo | Arrecife - Arena |
| Time of year | Summer |
| Época del año | Verano |
The spot delivers constant winds when the direction is from SE to NE. You don't have to worry about the tide as the conditions don't change much. In the summer, if you go upwind, you can enjoy the North swells, with good waves on the reef you'll have some playful sections.
El lugar funciona con vientos consistentes, con direcciones de SE a NE. No tendrás que preocuparte por las mareas, no varian mucho las condiciones. Durante el verano, yendo contra el viento podrás disfrutar de los swells del N que originan buenas olas en el arrecife con secciones divertidas.
At the West end of Moorea's North shore, is the true meca of kitesurfing on the island. The place offers a nice sandy beach to launch your kite off. In front of the beach, there's a small white sandy island covered with palm trees, an idyllic placed used by the local kiteschools. You can sail over crystal clear flat waters or get to a small reef with playful lefts and rights.
Situado en el extrermo oeste de la costa norte de Moorea, es la verdadera meca del kitesurf en la isla. El lugar ofrece una bonita playa de arena para ponerte en marcha. En frente de la playa hay una pequeña isla de arena blanca cubierta de cocoteros, un lugar idílico ultilizado por las kiteschools locales. Podrás navegar por aguas cristalinas calmadas o acercarte a un pequeño arrecife con olas de izquierdas y derechas cómodas.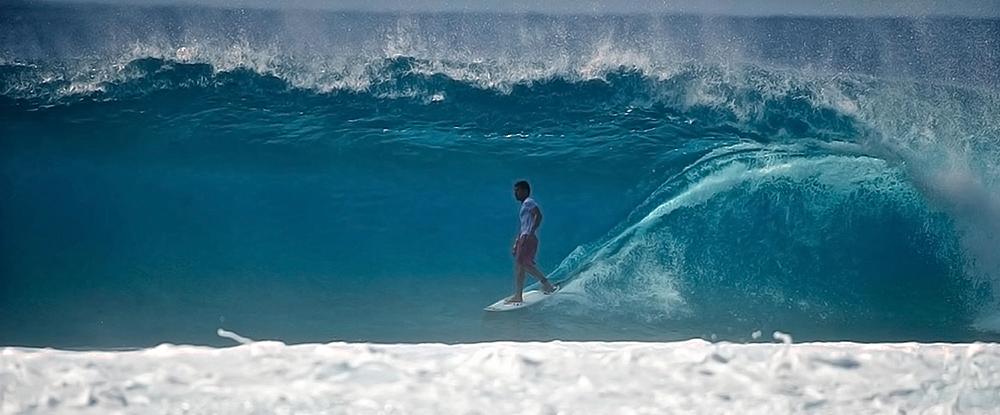 The island offers a great variety of activities as well as surf, kitesurf, windsurf and SUP. The mountains, of volcanic origin, which are covered by the green of the coconut trees offer a great variety of paths to get to know the inland. The three coconut pass will allow you to cross several streams among the woods of Tahitian chestnut trees, before you reach the peak and enjoy the magnificent views. If you want something more physical, you can hike to Mount Rotui but it's only for experienced hikers with a guide. The views from there are indescribable. Another good option is to rent a motorbike and go around the island as there are a couple places you can't miss; Cook bay and Opunohu bay are some of the most beautiful places in the Pacific ocean.
La isla ofrece una gran variedad de actividades además de la práctica del surf, kitesurf, windsurf y sup. Las montañas de origen volcánico cubiertas por el verde de los cocoteros ofrecen una gran variedad de senderos para conocer el interior de la isla. La garganta de los tres cocoteros, te permitirá atravesar varios riachuelos entre bosques de castaños tahitianos antes de llegar a la cima y disfrutar de unas vistas magníficas. Si quieres algo más exigente puedes animarte con la ascensión al Monte Rotui, únicamente para senderistas experimentados y con guía, las vistas de los paisajes de alrededor, indescriptibles. Te recomendamos que alquiles una motocicleta y recorras la isla a tu aire, no debes perderte uno de los lugares más bonitos del Pacífico, la bahía de Cook y la no menos bonita, bahía de Opunohu.