Mehdia Plage / Morocco – Surf,Bodyboard – Kenitra – Northern Morocco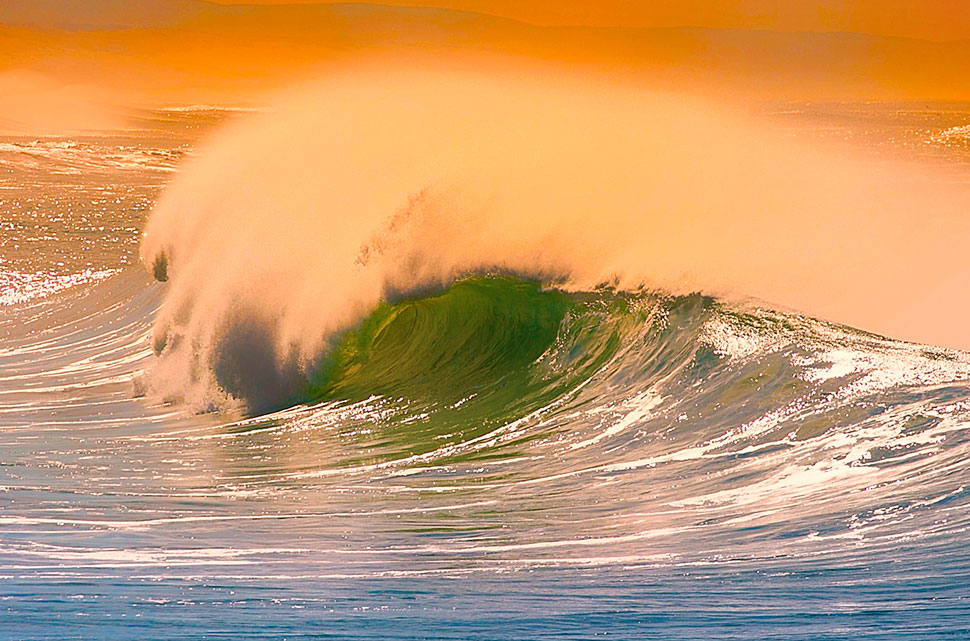 | | |
| --- | --- |
| Wave | Beachbreak |
| Ola | Playa |
| Wind | SE |
| Tide | All |
| Marea | Todas |
| | |
| --- | --- |
| Swell | W - NW |
| Bottom | Sand |
| Fondo | Arena |
| Time of year | From October to April |
| Época del año | Desde Octubre a Abril |
The best time is from October until April when the best swells cross from the north Atlantic to the Moroccan coast. The Moune is the most consistent and most well known spot. It's a long and powerful right that breaks over a permanent sandbank that forms next to the south breakwater. This long breakwater protects the waves from the north winds and the sets advance along it, increasing more in quality than at any other place on the beach towards the south.
It works best at mid tide, better if it's rising. However, it is possible to catch waves with any tide apart from during high tide with a small swell because the waves disappear, so with those conditions it's better to look for beach breaks along the whole of the enormous beach. The wave works from 1 to 12 feet and holds quite a good size but the ideal swell is WNW, between one and two metres. Glassy conditions are common in the winter at sunrise and sunset. On days with breezes that come from the east over the land, Moune has long, fast barrels in the second section. The lefts are sometimes good as well but they are a lot shorter. Overall, it's a good spot for all levels as although it is big, you can learn or practice by the shore near to the breakwater.
Another popular spot is Sharatan. It's a long left with fast sections, even barrels, and is located in the Sebu River estuary. It only works well with heavy seas, more than a three metre swell. The breakwaters at the estuary filter the sets and the long left starts breaking at the south breakwater over a rocky slab. It's best with mid to high tide. At this spot you need to be very careful as it's the port entrance for the boats. The currents are also very strong both ways depending if the tide is falling or rising. The main disadvantage is that the river is very contaminated and full of residue at times which is a shame as it's a very high quality wave when it breaks. The Chilihat left and other quality peaks are behind the north breakwater, but it's advisable to exercise caution to access them as knowledge of the area is important.
La mejor temporada es desde Octubre hasta Abril cuando los mejores swells cruzan desde el Atlántico norte hasta las costas de Marruecos. El Moune es el spot más consistente y el más reconocido, una derecha larga y potente que rompe sobre un permanente banco de arena que se forma junto al espigón sur, este largo espigón protege las olas de los vientos norte y las series al avanzar pegadas a él se ordenan recogiendo más calidad que en cualquier lugar de la playa hacia el sur.
Funciona mejor con marea media, mejor si está subiendo, aunque se pueden coger olas con cualquier marea, tan solo con marea alta si el swell es pequeño las olas desaparecen y es mejor buscar picos orilleros por la enorme playa que se extiende hacia el sur. Es una ola que funciona desde 1 a 12 pies aguantando bastante tamaño, pero lo ideal es un swell de WNW, entre metro y dos metros. En invierno son frecuentes condiciones glassy al amanecer y en la puesta de sol y atentos a días de brisas de tierra del Este porque el Moune ofrece tubos largos y rápidos en la segunda sección. En ocasiones las izquierdas también son buenas pero son mucho más cortas y en cualquier caso es un excelente spot para todos los niveles donde aunque este grande se puede aprender en la orilla cerca del espigón.
El otro spot muy conocido es Sharatan, una larga izquierda con secciones rápidas e incluso tubos que funciona dentro del el estuario del río Sebu, solo funciona bien cuando el mar está muy grande por encima de los tres metros de swell. Es entonces cuando los dos espigones del estuario filtran las series y desde el espigón sur empieza a romper esta larga izquierda sobre una laja de roca, mejor cuando la marea esta media- alta. Hay que tener muchísima precaución con los barcos ya que por aquí está la entrada al puerto para los barcos. También las corrientes son fuertes en una dirección u otra según la marea baje o suba. En ocasiones el rio está demasiado contaminado y lleno de residuos lo cual es un inconveniente en esta ola que cuando rompe posee una calidad muy alta. Detrás del espigón norte esta la izquierda de Chilihat y otros picos de mucha calidad, pero es recomendable mantener la prudencia porque hay que conocer bien la zona para poder acceder a ellos.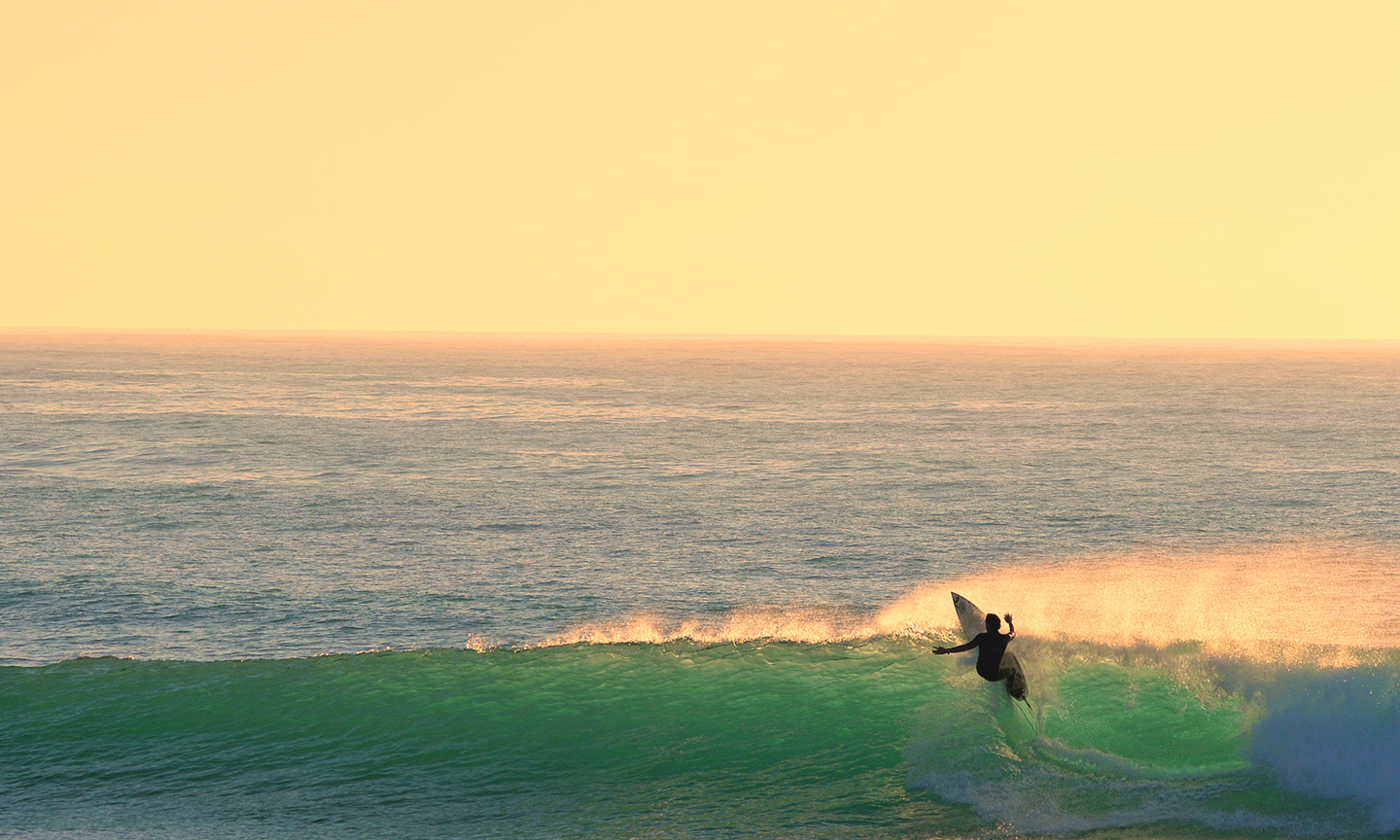 If you head from Casablanca towards the extreme north of Morocco, you'll find Mehdia Plage. It's known as Morocco's surf mecca and is the most well known and consistent spot in Morocco with many wave options. Mehdia was chosen by the EE.UU. to be the Franco – United States strategic point and military base in Africa to face the German forces during the Second World War. Thanks to the arrival of the military, in the sixties a soldier called Claude Bérard took a surfboard there and shared it with Henri Coggia Pierre and Chalaud 'Mamoune', one of the beach lifeguards. The word soon spread and little by little American and Australian hippies arrived and transmitted their love of the waves to the first Moroccan surfers.
Mehdia is just one step away from Europe and you can find direct flights to Rabat or Casablanca. You don't have to travel too far once you're there as it's only 45 minutes away from Rabat Airport and 2 hours from Casablanca Airport. The roads are good and the area is easy to get to from the A-1 motorway. Mehdia is one of the places in Morocco that is most accustomed to tourism. They treat visitors well and it's very easy to find accommodation, there are various surf camps and houses in the streets behind the beach.
The road towards the port is full of restaurants and various shops which offer a warm and friendly environment. Mehdia is Kenitra's beach, and is one of the liveliest places in the region where families and children go to play and spend the day. Surfers and bodyboarders from all over the world know about this place as it has very good waves suitable for all levels throughout the whole year. There are various main spots; Moune, Chlihat and Sharatan and each requires certain conditions. The peaks are protected by a large local community however, there are times when there is nobody and other times when it gets quite crowded. This is mostly in the afternoons when there are quite a few locals in the water but they are very nice people and welcome you with respect. Some of the best local surfers are Walid and Nabil and some of the excellent bodyboarders are the champion Anass Haddar and locals like Anouar Kaouch and Ayoub.
Desde Casablanca hacia el extremo norte de Marruecos Mehdia Plage es el spot más conocido, consistente y con más opciones para coger olas, esta playa es conocida por ser la cuna del surf en Marruecos. Mehdia fue elegida por los EE.UU. como punto estratégico y base militar franco-estadounidense en África para enfrentar a las fuerzas alemanas en la segunda guerra mundial. Gracias a esa llegada de militares en los años 60 el soldado Claude Bérard, trajo una primera tabla de surf que compartiría con Henri Coggia Pierre y Chalaud 'Mamoune', uno de los socorristas de la playa. Pronto la fama se extendió y poco a poco fueron llegaron americanos y australianos, hippies que traspasaron su amor por las olas a los primeros surfers marroquíes.
Mehdia está a un paso de toda Europa y se pueden encontrar vuelos directos hasta Rabat o Casablanca a diario. Las distancias no son grandes, tan solo 45 minutos desde el aeropuerto de Rabat y 2 horas desde el aeropuerto de Casablanca, las carreteras son buenas y la zona está bien articulada desde autopista A-1. Mehdia es uno de los lugares de Marruecos más acostumbrados al turismo, el trato es excelente y el alojamiento es muy fácil de encontrar, hay varios surfcamps o caseros en las calles por detrás de la playa. La carretera que conduce al puerto está llena de muchos restaurantes y locales diversos ubicados junto al mar ofreciendo un universo cálido y agradable. Mehdia es la playa de Kenitra, y uno de los lugares con más animación de la región, a la playa acuden las familias y los niños a jugar o pasar el día.
Es un lugar reconocido por surfistas y bodyboardes de todo el mundo y ofrece muy buenas olas durante todo el año para todos los niveles. Posee varios spots principales, El Moune, Chlihat y Sharatan y cada uno requiere unas condiciones determinadas. Estos picos son protegidos por una comunidad local abundante, sin embargo hay momentos en los cuales no hay nadie y otros momentos en los que hay bastante afluencia. La mayor afluencia se da por las tardes cuando acuden bastantes locales, estos son gente agradable que agradece un trato con mucho respeto, conocidos y buenos surfers locales son Walid, Nabil y el alto nivel de los bodyboarders entre ellos el campeón Anass Haddar o locales como Anouar Kaouch y Ayoub.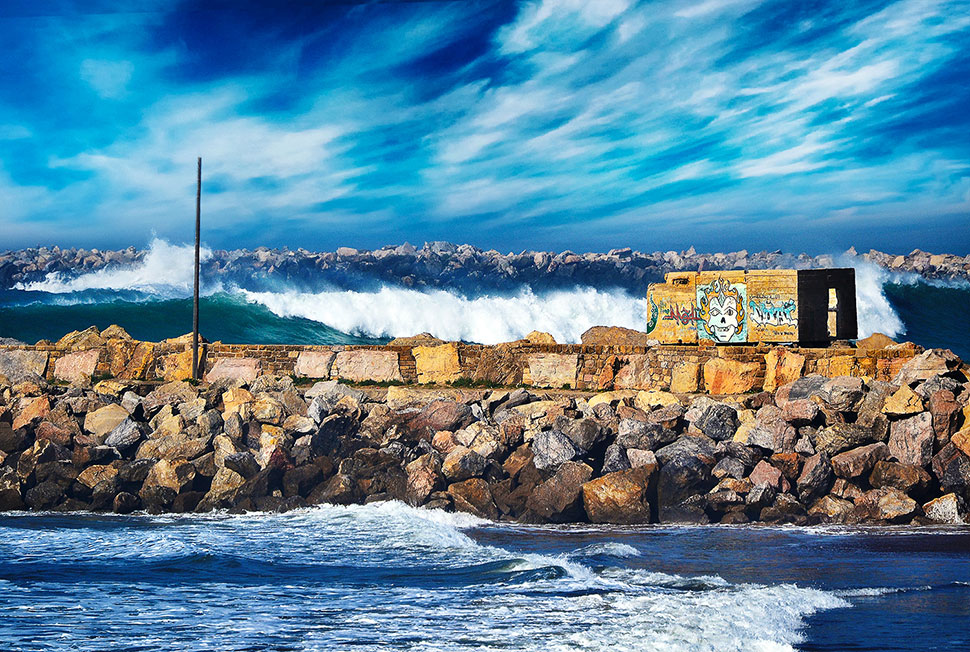 The old Phoenician city Kasba is west of Kenitra. It was built in 1895 by the Sultan Al Hassan and it's a fortified precinct that you can visit to see the interesting Arabian architecture of the mosques, houses and stables. You can also visit the ruins of the original Spanish fort, the Mamora, and see the bastions which are 70 metres above sea level, the palace and the mosque.
There are many cafes and terraces on the banks of the River Sebu and from there you can watch the many fishermen at work. Seven kilometres down the river, behind the Mehdia ruins is where you'll find Shilhate Beach. By heading south, you'll find the Sidi Boughaba Lake and its large beach which is a protected biological reserve for the numerous marine birds. It's an isolated rural beach with fine sand which has great ecological value and can be accessed by mountain bike or SUP.
The Kashba Mehdia ruins, perched high on the cliff with spectacular panoramic views and the Banasa Roman ruins, by the River Sebu, date back to 285 D.C. It's highly recommended to visit them both along with the baths and the capitol temple whose structures remain intact. If you are planning to stay for at least a few days, the lively city of Rabat is worth visiting as there are many places there that you shouldn't miss, especially the Chella Necropolis, the Mausoleum of Mohamed V and the medina.
Al Oeste de Kentira encontraréis la antigua ciudad Fenicia de Kasba de Kentira, construida en 1895 por el Sultán Al Hassan es un recinto que se puede visitar, está amurallado y podréis disfrutar de la arquitectura árabe, sus salones, mezquita, casas y los establos. Junto al spot podréis visitar la fortificación de origen Español de la Mamora, está en ruinas, pero se puede apreciar los bastiones a 70 metros por encima del nivel del mar, el palacio y la mezquita.
La Rivera del Sebu alberga numerosos cafés y terrazas a los pies del rio Sebu, podréis contemplar a los pescadores y a 7 kilómetros siguiendo el río, tras las ruinas de Mehdiya encontraréis la playa de Shilhate. En dirección sur se encuentran las lagunas de Sidi Bouhhaba, es una extensa playa protegida por el paso de numerosas aves acuáticas. Es una playa solitaria, no urbanizada de arena fina tostada y de gran valor ecológico accesible en mountain bike o con sup.
Las ruinas de Kasbah Mehdia en lo alto del acantilado con unas panorámicas espectaculares y las ruinas romanas de Banasa junto al río Sebu datada en el año 285 D.C. son otras alternativas muy recomendables por visitar. Las termas o el templo capitolio aún conservan su estructura. Si vais a estar varios días, es muy recomendable que visitéis la animada ciudad de Rabat, hay multitud de sitios interesantes que no os podéis perder, en especial la Necrópolis de Chella, el Mausoleo de Mohamed V y la Medina.