Playa de las Américas / Spain – Surf,Bodyboard – Tenerife – Canary Islands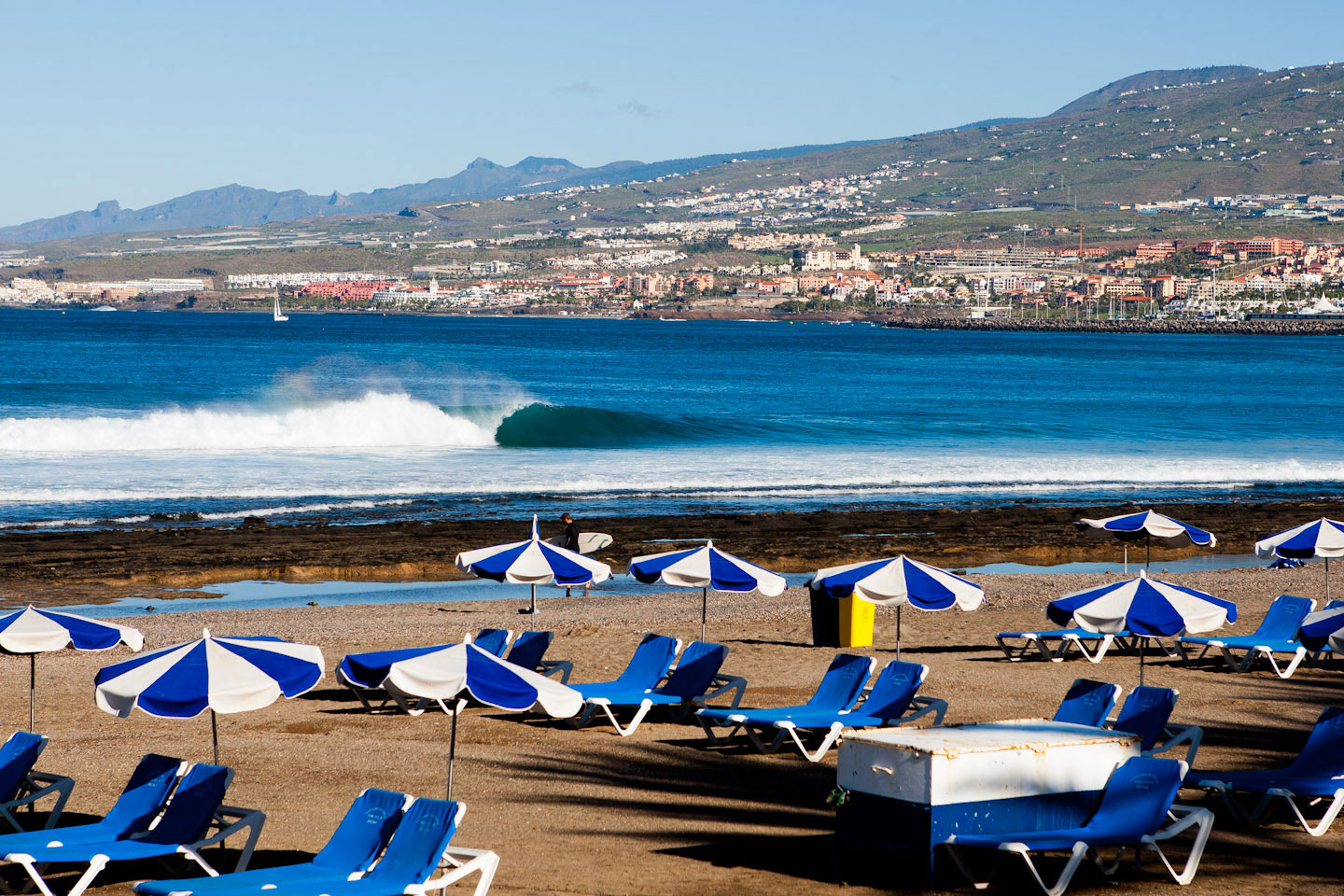 | | |
| --- | --- |
| Wave | Lefts and rights |
| Ola | Izquierdas y derechas |
| Wind | E |
| Tide | Medium - High |
| Marea | Media - Alta |
| | |
| --- | --- |
| Swell | NW |
| Bottom | Lava Reef |
| Fondo | Arrecife de lava |
| Time of year | From October to April |
| Época del año | Desde Octubre a Abril |
The Las Américas peaks work with S swells during the European summer and mainly with NW – W swells during the winter which is the official wave season, from October to April. The size that the peaks can hold changes and it can be from half a metre up to three metres depending on the peak. There are few peaks that enter with force from the south but those that do are excellent quality and when they break, the whole world will be there. One of them is Fitenia, an important peak for the locals which is situated next to the beach, in front of the Hotel Mediterranean Palace. It works best between high and mid tide, from 2 to 12 feet and with N wind. It's mainly a long, fun left which even has a barrel section when it's powerful. The right is shorter but more intense and powerful and there is a wave that comes from the breakwater towards it. This is very punchy so you'll be able to do powerful manoeuvres. The other good peak is Piscinas, situated just in front of the Hotel Conquistador, the left is longer than the right and it alternates between vertical sections and other gentler ones. When it breaks well, it's a wave that ends in the entrance canal for the El Conquistador right. It's safer to surf at high tide as there is a rock which you'll see appear when the tide begins to go out.
From there on all of the peaks work with W – NW swell in the European winter. Jeffreys isn't very consistent and needs a very big swell to reach its maximum splendour. As its name indicates, it's a long right which is extremely surfable. The best moment is with full tide, although you can surf it with any tide. El Dedo is situated next to the most important peaks, Palmeras and El Conquistador. It's the most popular wave, not with locals but this doesn't mean it isn't a quality wave with power, above all when the sea and swell from W – NW enters with ordered lines and force. It generally opens towards the right, but when it's not big the left also breaks. The best tide is mid to high. El Conquistador or El Cartel is one of the best waves in Las Américas, situated in front of the Hotel Conquistador, it's a perfect powerful right that can hold a lot of size and is well-loved by the strongest local surfers such as Matías Hernández. You can sometimes finish on the inside of Piscinas, a zone where you should pay attention to the currents and take care entering and exiting as the rocks stick out. It works with mid to high tide.
El Hueco is a right which works with incredible power in relation to the size which it can hold, no larger than 3 or 4 feet. It's one of the most powerful waves and ends where El Conquistador begins. Take extreme caution as it is a wave which stays dry on the inside. It works with high tide. El Bunker is a powerful left, above all when it passes El Conquistador. It's one of the waves which holds the most in Las Américas and a very good alternative option that works with all tides. El Medio, the zone with fun peaks and various waves which open both ways, with more or less power, depending on the moment but it works with most tides. The surf schools often go to this zone. Palmeras, the best wave on the whole beach, is situated in front of the Hotel Palmeras and is the last peak at the extreme right of Las Américas. It's a wave which reaches world class standards on some days, in fact, it's one of the spots that is most protected by the locals, and so only with a lot of respect will you be able to get any opportunities with the early morning light, after it gets packed with the locals and the opportunities are scarce. It's mainly a left that's more than one hundred metres long with perfect shape, push and barrel sections, but a very good, short and powerful right also breaks there. It works well with all tides, however the best moment is with a mid-rising tide.
Los picos de las Américas funcionan con swell de S en el verano europeo, y principalmente con swell de NW – W en invierno cuando es la temporada oficial de olas desde octubre a abril. El tamaño que aguantan sus picos es muy variable, desde medio metro hasta los más de tres metros según el pico. Los siguientes picos entran con fuerza sur son pocos, de mucha calidad y por ello cuando rompen todo el mundo se reune en ellos. Uno de ellos es Fitenia, una cita obligada entre todos los locales de las Américas, se sitúa al lado de la playa en frente del Hotel Mediterranean Palace, funciona mejor entre marea alta y media, viento N y desde 2 a 12 pies. Principalmente una izquierda, una muy querida, divertida, larga e incluso alguna sección de tubo cuando la fuerza es grande. La derecha es más corta pero a la vez más intensa y potente, posee una contra que viene del espigón hacia la misma con mucho choque para realizar maniobras potentes. El otro buen pico es Piscinas, justo en frente de el Hotel Conquistador, una izquierda más larga que la derecha, alterna secciones verticales y otras más suaves. Es una ola que cuando rompe bien, termina en el canal de entrada a la derecha del Conquistador. Hay que tener cuidado con una roca que se cubre con marea llena, pero que cuando comienza a bajar se va dejando ver, por ello es más seguro surfear con marea llena.
A partir de aquí todos los picos funcionan con swell de W – NW en el invierno europeo. Jeffreys, no es un pico muy consistente y para cogerlo en su máximo esplendor necesita un swell muy grande. Como su propio nombre indica es una derecha larga extremadamente surfeable. El mejor momento es con marea llena, aunque se puede surfear en todas las mareas. El Dedo, es en pico situado al lado de los que son los picos mas importantes de Palmeras y El Conquistador, es la ola más frecuentada por personas no locales pero eso no significa que no sea una ola con mucha potencia y calidad, sobre todo cuando el mar el swell de W y NW entra ordenado y con fuerza. Abre por lo general hacia la derecha, pero cuando no está muy grande rompe también la izquierda. La mejor marea es de media a alta. El Conquistador o el Cartel es una de las mejores olas de las Américas en frente del Hotel Conquistador, una derecha perfecta y potente que aguanta mucho tamaño muy querida por los surfers más potentes de Américas como Matías Hernández. En ocasiones cuando el mar está puedes terminar en el inside de Piscinas, zona en la que debes prestar atención a la corrientes y tener cuidado al entrar y salir por las rocas que sobresalen. Alguna vez donde sale una izquierda. Funciona con media marea a marea llena.
El Hueco, derecha que rompe con una increíble potencia en relación al tamaño que puede agüantar, no mayor de de 3, 4 pies, a pesar de ello es una de las olas más potentes. Termina a la altura que comienza el Conquistador. Resaltar que se tiene que extremar la precaución, ya que es una ola que se queda seca en el inside. Funciona con marea llena. El Bunker, Izquierda muy potente, sobre todo cuando se pasa el Conquistador. Es de las olas que más aguanta en las Américas, una muy buena alternativa. Funciona con todas las mareas. El Medio, zona con diversos picos con olas variadas abriendo hacia ambos lados, con más o menos potencia según el momento. Es una zona frecuentada por las escuelas de surf. Funciona con todas las mareas. Palmeras se encuentra en frente del Hotel Palmeras, es la última en el extremo derecho de las Américas y la mejor ola de toda la playa. Una ola que puede tener días en los que alcance clase mundial, de hecho es conocida por ser uno de los spots más protegidos por los locales, allí solo con mucho respeto es posible tener oportunidades con la primeras luces del día, despues la afluencia de locales es máxima y las posibildades muy escasas. Principalmente es una izquierda de más de cien metros con perfectas formas, empuje y secciones de tubo. Junto a la izquierda, sale una derecha más corta pero potente también muy buena. Funciona mejor con todas las mareas, aunque con media subiendo es quizás su mejor momento.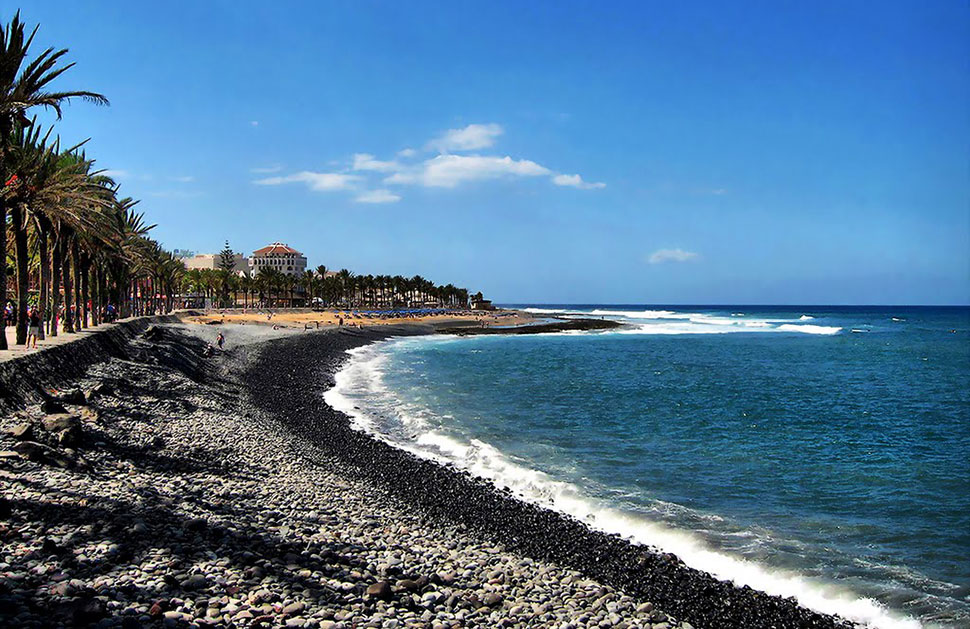 The Las Américas beach is situated on the south coast of Tenerife. It's long been one of the most emblematic places in the Canary Islands with regards to slide sports because of the peaks, tradition and numerous community. They breathe surf, bodyboard, SUP, longboard and skate there. It's also one of the Canary Islands' main tourist areas as it has one of the best climates in Europe, enjoying spring like weather all year round and an average annual temperature of 23°C. The water temperature is also warm all year round, varying between 18°C in the winter and 24°C in the summer, so a 3 mm wetsuit is more than sufficient in the winter, a 2 mm in spring and board shorts in summer until late autumn.
To get to Las Américas, the best option is to fly to Tenerife South Airport. You'll find buses which will take you to Los Cristianos – Las Américas in 15 minutes, and if you rent a car you won't have problems parking but make sure you are cautious and don't leave any valuables in the car. You won't need to pack many things, a few clothes, a light wetsuit if you go during the winter, and a towel. You'll find many facilities at the spot such as showers, toilets, a wide range of accommodation options, bars where you can meet people, restaurants and, of course, many prestigious surf schools, some with great prestige for their tradition and experience. There are also surf shops like 'Wawa' which is next to the famous Palmeras peak and where the friendly staff will help to make your surf experience in Tenerife as good as possible.
The essence of the place and quality breaks are down to the privileged situation of the Canary Islands as it receives swells from fronts far away in the Atlantic Ocean, north in the winter and south in the summer. The volcanic origin of the islands and the successive volcanic eruptions are what have configured the coast and these volcanic rock reefs now have perfectly placed peaks to receive and project any swell that arrives. The original volcanic lava of the reefs are mostly covered in moss meaning that booties aren't really necessary, although you should take care not to tread in the holes which may contain sea urchins.
To sum up, the Las Américas beach is over a kilometre long and is consistent throughout the year. The incredible quality of some of its peaks, the unbeatable climate and the local atmosphere which revolves around slide sports makes it the perfect place for wave lovers. We should mention legendary Canarian surfers which have honed their skills at Américas, such as Matías Hernández, the Trujillo brothers, Óscar Chavez, David Wilches, and juniors such as Marcela Machado, Nico Aguirre and Alex Bauduin, or the enshrined such as Ascanio and the local idol Jonhatan González who has had worldwide recognition for many years.
La playa de las Américas se encuentra en la costa sur de Tenerife, es un lugar que por la calidad de sus picos, tradición y la numerosa comunidad es desde hace mucho tiempo uno de los lugares más emblemáticos de Canarias en cuanto a deportes de deslizamiento se refiere, aquí se respira surf, bodyboard, SUP, longboard y skate. Al mismo tiempo es una de las mayores áreas de atracción turística de Canarias. Aquí se disfruta de uno de los mejores climas de Europa, como si fuera una primavera permanente y una media anual de 23 grados. Igualmente la temperatura del agua es templada todo el año, varía entre 18 grados en invierno y 24 grados en verano, esto quere decir que un traje de 3 mm es más que suficiente en pleno invierno, 2 mm en primavera y bañador en verano hasta bien avanzado el otoño.
Para llegar a las Américas es recomendable llegar a través del Aeropuerto de Tenerife Sur encontrarás autobuses que van en 15 minutos hacia Los Cristianos – Las Américas, y si alquilas un coche hay aparcamiento y no tendrás problemas, pero mejor ser precavido y no dejar cosas de valor a la vista. No tendrás que traer demasiadas cosas, un poco de ropa, un ligero traje de neopreno si vienes en invierno y una toalla. En este spot encontrarás todo tipo de servicios, duchas, aseos, una gran oferta de alojamiento, locales de ocio para conocer gente, restaurantes, por supuesto bastantes escuelas de surf, algunas con gran prestigio por su tradición y experiencia. También destaca surfshops como 'Wawa' al lado del famoso pico de Palmeras, allí su agradable personal te ayudará a que tu experiencia en el sur de Tenerife sea lo mejor posible.
Para conocer un poco la esencia de este lugar y la calidad de sus rompientes es bueno saber que la situación de las Islas Canarias es privilegiada, tanto para recibir swell desde lejanos frentes del Oceáno Atlántico norte en invierno, como del sur en verano. Hay que decir que el origen volcánico de las Islas Canarias y las sucesivas erupciones volcánicas son las que han configurado el perfil de la costa y esos fondos de arrecife con roca volcánica que poseen sus picos perfectamente colocados para recibir y proyectar cualquier ondulación que se les acerque. Hay que decir que la originaria lava volcánica de estos arrecifes esta en su mayor parte desgastada, cubierta de musgo y que hace que no sea tan necesario ponerse escarpines, aunque haya que tener precaución de no meter los pies en algún hueco donde haya erizos.
En resumen, la Playa de las Américas cuenta con más de un kilómetro de largo donde la consistencia durante todo el año, la increíble calidad de alguno de sus picos, el inmejorable clima y el ambiente que aquí se respira en torno todos los deportes de deslizamiento hacen de este lugar un privilegio para aquellos que aman las olas. Hay que hacer una merecida mención a míticos surfers canarios forjados en Américas como Matías Hernández, los hermanos Trujillo, Óscar Chavez, David Wilches, jóvenes como Marcela Machado, Nico Aguirre y Alex Bauduin, o consagrados como Javier Ascanio o el ídolo local y surfer de reconocido prestigio en todo el mundo desde hace años, el tinerfeño Jonhatan González.
You should visit Teide National Park, over 3.700 metres above sea level and with snow covered peaks in the winter, it's spectacular to see the contrast between the Alpine landscape at the summit of Mt. Teide with the blue of the ocean that surrounds it. Another interesting place is the Red Mountain. It's a volcanic crater made of reddish sand which has been eroded by the sea and a unique habitat for rare birds. Visit Los Cristianos and explore Monkey World, or the Adeje Coast to visit the largest waterpark in Europe, Siam Park. The park contains one of the world's biggest artificial waves. It's advisable to visit the pretty Canarian town of Alcalá. At night you should go to Las Veronicas and get lost in the many clubs and pubs. You could also go to the island's capital, Santa Cruz de Tenerife.
Es obligatorio visitar el Parque Nacional del Teide, con más de 3700 metros de altitud sobre el nivel del mar en invierno siempre sus cumbres estan nevadas, es espectacular contemplar el contraste que crea el paisaje alpino de la cumbre del Teide rodeado del azul del oceano a sus pies. Otra visita interesante es la Montaña Roja, la cual es un cráter volcánico de arenas rojizas erosionado por el mar, siendo un hábitat único para aves propias de islas orientales. Al este se encuentra La Montaña Pelada, un cono volcánico que presenta una caldera de un kilómetro de diámetro, donde también habitan aves singulares. Visitar la localidad de Los Cristianos y explorar Monkey World, o de la Costa Adeje para visitar el parque acuático más grande de Europa, el Siam Park, aquí esta una de las olas artificales más grandes del mundo. Es muy recomendable visitar los alrededores de la bonita localidad típica canaria de Alcalá. Por la noche hay que ir a Las Verónicas y perderse en la gran cantidad de clubs y pubs o algún día ir a la capital de la isla, Santa Cruz de Tenerife.