Playa de las Cocheras / Spain – Surf,Bodyboard – San José – Almería – Andalusia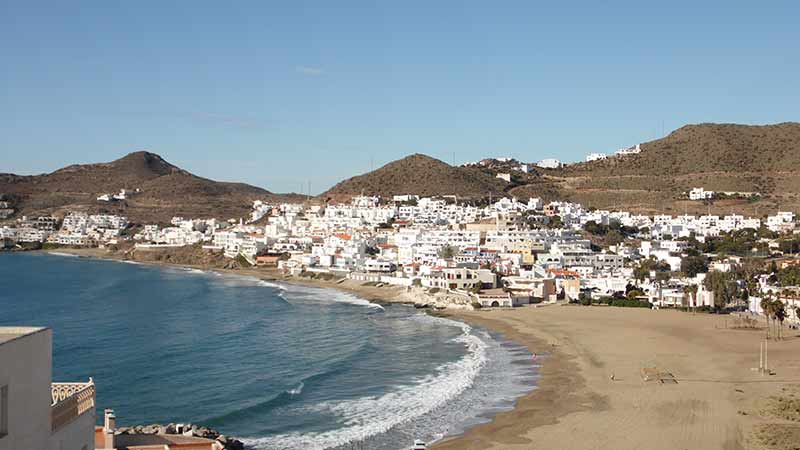 | | |
| --- | --- |
| Wave | Changing and fast |
| Ola | Variables y rápidas |
| Wind | W |
| Tide | Low |
| Marea | Baja |
| | |
| --- | --- |
| Swell | E - NE |
| Bottom | Sand - rocks |
| Fondo | Arena - Roca |
| Time of year | Fall - spring |
| Época del año | Otoño - Primavera |
The spot needs a consistent East swell, over 1,5 m and 8 s. The best wind is West, but it's not so common, so just waiting for the East wind to slow down is a good option in case the swell holds. All kind of waves, fast and with some hollow sections at the end. Autumn and spring are the best periods to enjoy the place.
Es un spot que funciona con swells consistentes del E con mar por encima del 1,5 m y periodos superiores a 8 s. El viento más favorable es el W, aunque es muy difícil que aparezca, será más fácil esperar que el E disminuya y aguante el swell. Las olas generadas son variadas y rápidas con alguna sección tubera al finalizar. Será entre el Otoño y la Primavera cuando se den las mejores condiciones para disfrutar de este lugar.
An urban spot, right in the village of San Jose, there's a small car park right in front of the peak, with direct access to the beach. It's a nice beach, with sandy and rocky seabed so be careful when you go into the water. It usually needs more East swell than Genoveses (the next spot). With consistent swells there are hollow and powerful waves (lefts and rights). On the stormy days, with strong Levante (Eastern wind) and a rough sea, it's better to go to the small town of La Islata del Moro, on the way to Rodalquiar. Here you will see a very good, long and hollow leftander.
Es un spot situado en el entorno urbano de San José, hay un pequeño parking frente al pico con acceso directo a la playa. Es una bonita playa con fondos de arena y roca, encontrarás zonas de difícil acceso al mar. Normalmente necesita más swell del E que el spot cercano de Genoveses. Con swells consistentes aparecerán olas de derechas e izquierdas rápidas y huecas. En días desfasados de levante con fuerte marejada o mar gruesa con bastante viento del E, merece la pena acercarse a la pequeña localidad marinera de La Isleta del Moro, dirección Rodalquilar, verás romper una izquierda hueca y larga buenísima.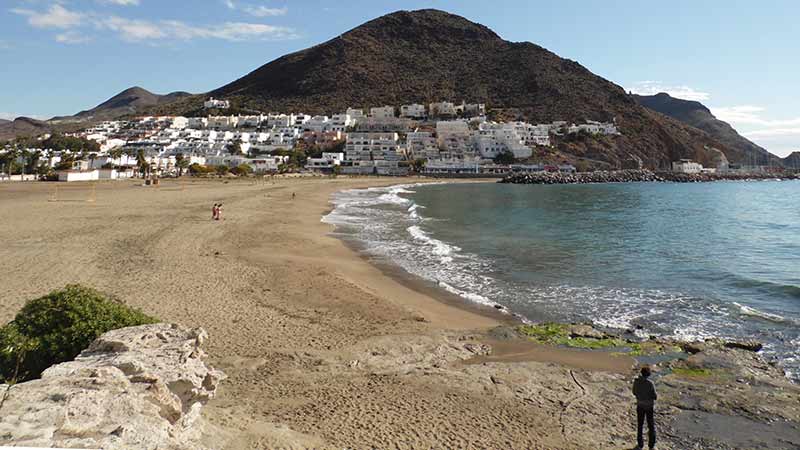 The beauty of the natural surroundings of Cabo de Gata is worth a visit, it's volcanic past has created amazing landscapes you can enjoy by several marked tracks. Our recommendation is the route from the Cabo de Gata lighthouse to San Jose, going by el arrecife de las sirenas (siren's reef, and some very lonely virgin coves. At San Jose port, you can have a boat tour to the lighthouse, and from the sea you will have a completely different perspective of the natural park and you'll be able to dive at some very special places.
There are some other beaches in the area that you have to visit. Monsul beach, next to Genoveses, has been the setting for several films e.g. Indiana Jones and commercials. It's a beach with dunes, more open to the South and more exposed to the West wind; at the right end of the beach, which is more protected from the wind, there's a small naturist cove. It's a perfect place to enjoy the Mediterranean.
La belleza del entorno natural del Cabo de Gata merece la visita, su pasado volcánico ha forjado paisajes que podrás disfrutar en numerosas rutas señalizadas, os recomendamos la ruta desde el Faro de Cabo de Gata a San José, pasando por el arrecife de las sirenas y algunas calas vírgenes muy solitarias. Desde el puerto marítimo de San José, podrás contratar un tour en barco hasta el Faro, desde el mar tendrás otra visión del parque natural y podrás bucear en lugares muy especiales. La visita a playas cercanas es obligada, la playa de Mónsul a continuación de la de Genoveses ha servido como escenario para películas como Indiana Jones y numerosos anuncios publicitarios, es una playa con dunas más abierta al sur y por lo tanto expuesta a los vientos del oeste, a la derecha de la playa hay una cala más protegida que suele ser zona naturista, el lugar ideal para disfrutar del Mediterráneo.