Ponta Preta Reef / Cape Verde – Surf,Bodyboard – Sal Island – Santa Maria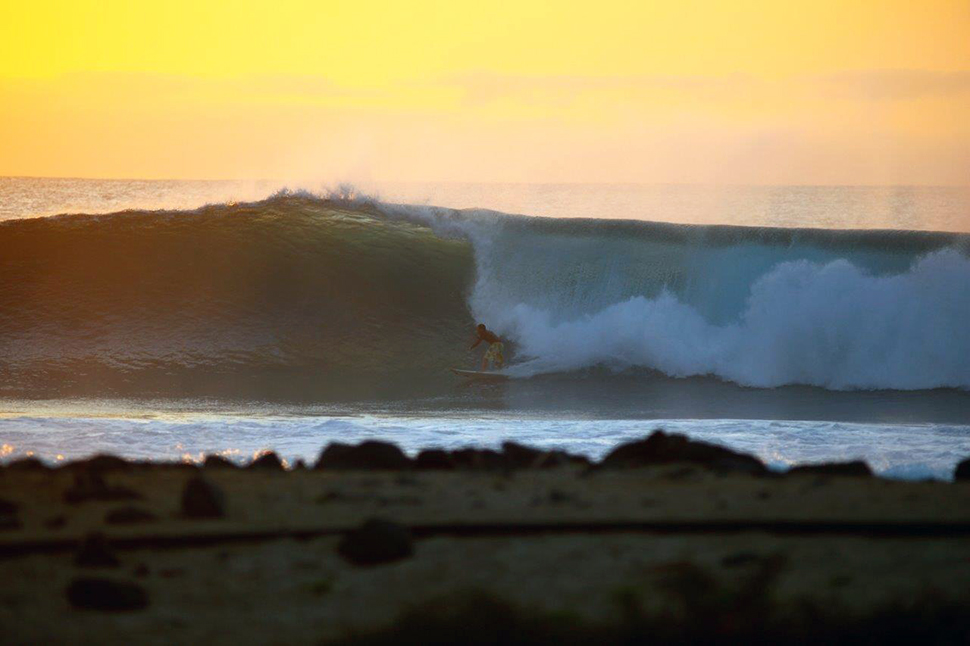 | | |
| --- | --- |
| Wave | Right |
| Ola | Derecha |
| Wind | E |
| Tide | Medium |
| Marea | Media |
| | |
| --- | --- |
| Swell | NW |
| Bottom | Lava reef |
| Fondo | Arrecife de lava |
| Time of year | From November to March |
| Época del año | De Noviembre a Marzo |
Ponta Preta is a righthander, which with good conditions can be 300 metres long. It breaks on an exposed lava reef and generates sections with barrels and powerful bowls in shallow water. Thanks to the depth of the low pressures in the North Atlantic, the swell is assured from October through to March. The best conditions are with a NW swell and E wind. Ponta Preta is at its best between September and December as this is when there are more glassy days and better wind conditions, which is what you need to keep in mind for your sessions.
Regarding the dynamics of the peak, the right is more consistent and the left is a nice wave but it requires a bit more level, the usual NE wind hits strongly giving it extra power and it tends to close out so it's essential to select the waves above four feet well. Although the tide changes don't go over a metre, it works best from low to full tide. It's important to keep the frequent and strong offshore in mind as it makes the drop in difficult, and this factor, along with a respectable size of more than 5 feet makes extra volume and length necessary. It's better to go in from the beach although some enter directly at the point.
Ponta preta es una derecha que con buenas condiciones alcanza los 300 metros, rompe sobre un expuesto arrecife formado de bloques de lava sumergidos que generan secciones tubulares y potentes bowls a muy poca profundidad. El swell gracias a la profundidad que alcanzan las bajas presiones en el Atlántico Norte esta asegurado desde Octubre hasta Marzo. Las mejores condiciones se dan con mar del NW y viento E, entre los meses de Septiembre y Diciembre Ponta Preta llega a su máxima expresión, es en estas fechas es cuando hay más dias glassy y mejores condiciones de viento que es el factor más a tener en cuenta para nuestras sesiones.
En cuanto a la dinámica del pico, la derecha es más consistente y la izquierda es buena pero exige más nivel, el usual viento NE le suele dar fuerte añadiendo una contundencia extra a la ola y además tiende a cerrar en barra, debido a ello en la izquierda se hace esencial seleccionar bien por encima de cuatro pies. Aunque las mareas no sobrepasan el metro de amplitud funciona mejor de baja a llena y es importante tener en cuenta que aquí el frecuente y fuerte offshore dificulta el drop in, esto unido a un tamaño respetable por encima de 5 pies hará que necesites volumen y longitud extra. Para entrar es mejor por la playa aunque algunos entren directamente por el point.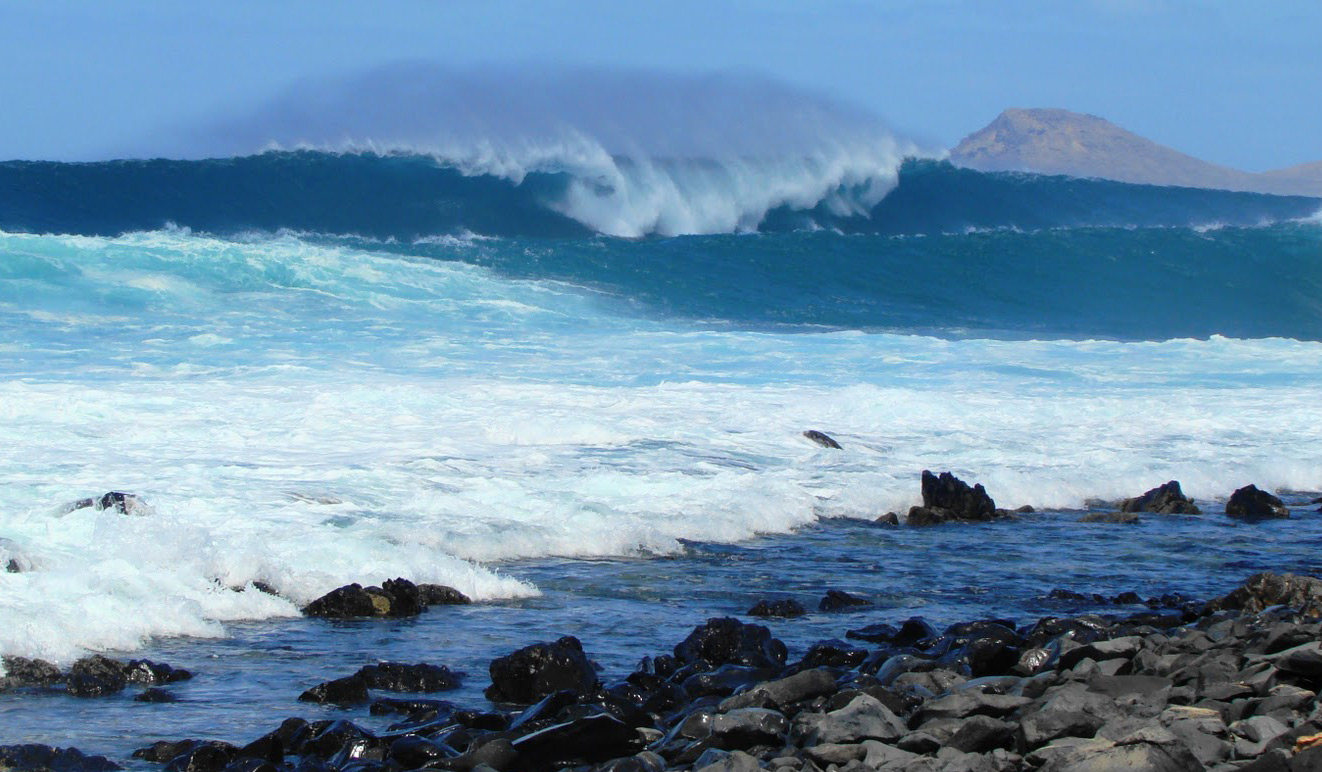 The Ponta Preta point is located on Sal Island, Cape Verde, a volcanic archipelago in the Atlantic Ocean just south of the Tropic of Cancer. Known for its beauty and the quality of its waves, the surf potential was first discovered at the end of the eighties by windsurf lovers. The south of the island is now one of the world's top windsurf destinations. In the wake of this, Sal Island and Ponta Preta became a benchmark for surfing, first in Europe and then in the rest of the world.
Santa Maria, the island's small capital, is a half an hour walk away from the beach which welcomes surfers from all over the world, and it has a wide variety of accommodation, restaurants and services. It's relatively easy to get there as it's well connected and is only a few hours away from the main European cities. Sal is Cape Verde's main island and the currency is the Cape Verdean Escudo. It's important to foresee your currency exchange as not all of the banks or currency exchange places accept bank cards. Bear in mind that Cape Verde isn't as cheap as it may seem due to its increasing popularity and development as a tourist destination. Sal Island is a wonderful authentic destination which is within everyone's reach, with incredible waves, a relaxed atmosphere, and a place where everyone is very kind and friendly. It has one of the best climates in the world with tropical waters of around 24°C. Ponta Preta is the perfect winter escape for those who have little time and want to arrive, drop their bag and go quickly to enjoy one of the best rights in the world.
El Point de Ponta Preta se encuentra en Isla de Sal, en el estado de Cabo Verde, un archipiélago de origen volcánico situado en el Océano Atlántico a la altura del trópico de Cáncer muy conocido por su belleza natural y por la calidad de sus olas. El potencial de surf fue descubierto por primera vez a finales de los ochenta por los amantes del windsurf que tienen aquí al sur de la isla uno de los destinos más importantes del mundo, a raíz de ello rápidamente Ponta Preta pasó a ser también un referente del surf, primero en Europa y luego en el mundo.
Santa María, es la pequeña capital de la isla a media hora a pie de la playa que acoge a surfers procedentes de todo el mundo y donde hay una gran variedad de todo tipo de alojamiento, restaurantes y servicios. Es un destino rápido que está muy bien conectado a solo unas horas de las principales ciudades europeas. La isla de Sal es la principal isla de Cabo Verde, la moneda es el escudo cabo verdiano y es importante ser previsor para cambiar en bancos o casas de cambio porque puede ser que no se puedan usar tarjetas en según que lugares. Es importante tener en cuenta que Cabo Verde no es tan barato como pueda parecer debido a su creciente popularidad y desarrollo como destino turístico. Isla de Sal es un maravilloso y original destino al alcance de cualquiera, con increíbles olas, una atmósfera relajada, agradables gentes y agradables locales. El clima es uno de los mejores del mundo, aguas tropicales alrededor de 24 º durante todo el año. Ponta Preta es una escapada invernal perfecta para aquellos que disponen de poco tiempo y quieren llegar soltar su mochila y rápidamente disfrutar de una de las mejores derechas del mundo.
Although Cape Verde is a relatively remote island, it has historical-cultural importance and was a stop off point for the slave boats heading towards America, the descendants of those slaves mixed with the Portuguese settlers therefore creating an ethnic mosaic and extraordinary culture. Sal Island is a rare version of a typical tropical island, there are many contrasts, like the arid lunar landscape which is blended with lush vegetation, all of which makes it an island worth visiting.
Cape Verde is a place with a confluence of ocean currents and there is an abundant variety of marine life. You can explore shipwrecks, sea caves, cliffs that can only be accessed by boat, see dolphins, moray eels, small sharks, lobsters, manta rays, turtles and much more. All of this can be discovered with any of the diving clubs that you'll find there. It's a hot fishing area and you can try the increasingly popular Vertical Jigging, a deep water fishing technique that allows you to catch larger prey. You could also rent a 4×4 and explore the whole island whilst listening to Funaná, the traditional Cape Verdean music.
Cabo Verde a pesar de ser un lugar relativamente remoto posee un valor histórico-cultural muy importante, fue un punto de parada para los barcos de esclavos rumbo a las Américas, los descendientes de aquellos esclavos se han mezclado con los colonos portugueses creando un mosaico étnico y cultural extraordinario. Además Isla de Sal es una versión poco común de la típica isla tropical, es un lugar de contrastes en el que su aridez parecida a un paisaje lunar se mezcla con puntos verdes y todo es un conjunto único que merece la pena conocer.
Cabo Verde es un lugar de confluencia entre corrientes marinas oceánicas y existe abundante y variada fauna marina, podrás explorar barcos que naufragaron, cuevas marinas, acantilados solo accesibles con bote, verás delfines, morenas, pequeños tiburones, langostas, mantas, tortugas y muchos otros más, para descubrir todo ello encontrarás buenos clubs de buceo. La pesca también es muy rica y podrás practicar el cada vez más popular Jigging, modalidad de pesca vertical en aguas profundas que permite capturar grandes presas y descubre los paisajes desérticos alquilando un 4×4 y recorriendo toda la isla escuchando funaná (la música local caboverdiana).