Praia do Amado – Surf,Bodyboard,SUP – Carrapateira – Algarve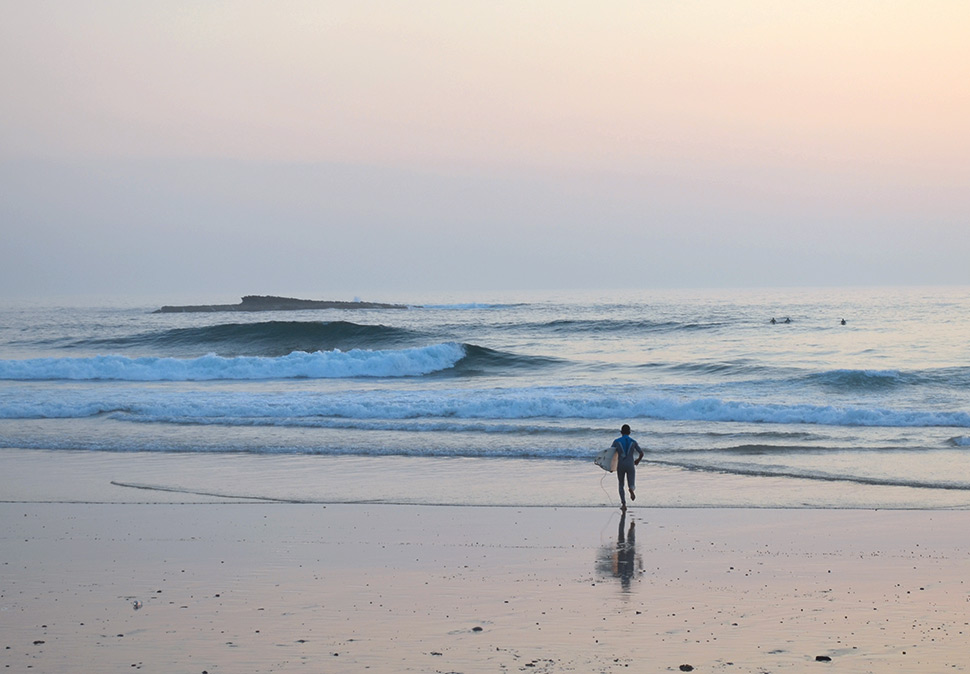 | | |
| --- | --- |
| Wave | Beachbreak |
| Ola | Playa |
| Wind | E - NE |
| Tide | Low - Medium |
| Marea | Baja - Media |
| | |
| --- | --- |
| Swell | NW - W |
| Bottom | Sand |
| Fondo | Arena |
| Time of year | All year |
| Época del año | Todo el año |
Do Amado is a beachbreak that works with any swell from the W, normally with NW, but depending on the collocation of the banks, it can even give good sessions with the uncommon SW swells as its banks offer longer lefts. The best tide is always when it's rising, low tide doesn't usually give good sessions as it closes out along the whole length of it but tides which fill too much aren't too good either. It's important to know that in this part of the Algarve, a good knowledge of the banks and tides is fundamental and most of the time it's better to wait for the moment than search for peaks among the large amount of possibilities along this incredible stretch of the Portuguese Algarve. You can see the peaks really well from the main viewpoint which you can get to from the walkways that cross the northern part where the car parks are. From there you'll see three main peaks, for which 3 and 4 feet is the best as with more than this it becomes a difficult spot with powerful waves and a lot of currents which require you to be in shape. Anything less and it is an accessible beach which can be fun for all.
The first peak can be seen just in front of the viewpoint. Although it depends on the conditions, it is usually the most appropriate place to enter the water. It's on the right next to the rocks which are clearly visible at low tide. It's the peak which changes its dynamic the most and on occasions can offer long surfable rights and on others it can disappear, leaving the attention to the following peaks. The next peak is located right in the centre of the beach in front of the bars. It is the main peak and alternates rights and lefts depending on the tide but normally works best with a rising mid tide. The next is less busy and it's where the locals show their knowledge on the what is the most challenging peak of this beach. From there onwards, there are some secondary peaks but you'll need to spend some time waiting to find the right moment when they offer the best sessions and above all on these peaks, respect the local community who are relaxed even on the busiest days.
Despite the latitude, in this zone the typical N currents (N to S) make the water cold all year round and it's only in September and October when this stops that the water gets a little warmer, allowing for a shorty. In winter a minimum of 4 mm is fundamental and a 3 mm is sufficient in summer. Some inconveniences are the influx, the windy days and sometimes waveless days which can happen in the summer, but there is less chance of this after July and August. If it is phased out, a recommendation is to go to other more protected beaches like Arrifana which is 15 minutes north, or the south coast of Sagres.
Do Amado es un beachbreak que funciona con cualquier swell proveniente del Oeste, normalmente, con NW, pero que según la colocación de los bancos incluso con inusuales swells de SW puede dar buenas sesiones haciendo que sus bancos ofrezcan más largas izquierdas. Sus puntos mejores de marea son siempre subiendo, la marea baja no suele ofrecer buenas sesiones con close outs a todo lo largo y por otro lado las mareas que llenan demasiado tampoco son buenas, hay que saber que en esta zona del Algarve el buen conocimiento de los bancos y mareas es fundamental, y la mayoría de veces es mejor esperar el momento que no estar buscando picos entre la gran inmensidad de posibilidades en este increíble tramo de costa del Algarve portugués. Estos picos se observan muy bien desde el mirador principal al que se llega por las pasarelas que cruzan la zona norte donde están los aparcamientos. Desde ahí se observan tres picos principales, de los cuales a continuación hacemos referencia en condiciones entre 3 y 4 pies las cuales son las mejores, más de eso es una playa difícil con olas potentes y muchas corrientes que exige estar en forma para remontar y menos es una playa asequible y muy divertida para todos.
El primer pico que se observa esta justo enfrente del mirador, lugar que en según que condiciones es el más apropiado para entrar al agua, este pico pegado a las rocas de la derecha y que son bien visibles con marea baja. Es el pico que normalmente más cambia su dinámica, y que en ocasiones puede ofrecer derechas largas y muy surfeables y en otras ocasiones desaparece dejando el protagonismo a los siguientes picos. El siguiente pico se sitúa justo en el centro de la playa enfrente de los bares, en este se alternan derechas e izquierdas según el punto de marea, este es el pico principal y que funciona normalmente mejor con marea media subiendo. El siguiente pico es menos concurrido por la potencia y la dificultad de remontar, es aquí donde los locales demuestran su conocimiento en el que es el pico más exigente de la playa. A partir de aquí hacia el final se ofrecen más picos secundarios pero hay que pasar tiempo en este lugar para encontrar el momento en el cual estos ofrecen buenas sesiones y en ellos sobretodo respetar a la comunidad local que se siente tranquila en los días de máxima afluencia.
En esta zona a pesar de la latitud, las corrientes que origina la típica nortada de norte a sur hacen que el agua este fría todo el año, tan solo en septiembre octubre cuando esta cesa podemos encontrar el agua un poco más templada, incluso permitiendo el traje corto, en invierno un 4 mm es fundamental y en verano con un 3 mm es suficiente. Algunos de sus inconvenientes son la gran afluencia, los días ventosos y rara vez sin olas que pueden darse en verano, algo que se minimiza después de julio y agosto. Como recomendación si este lugar está desfasado es momento de dirigirse a otras playas más protegidas como Arrifana a 15 minutos al norte o a la costa sur de Sagres.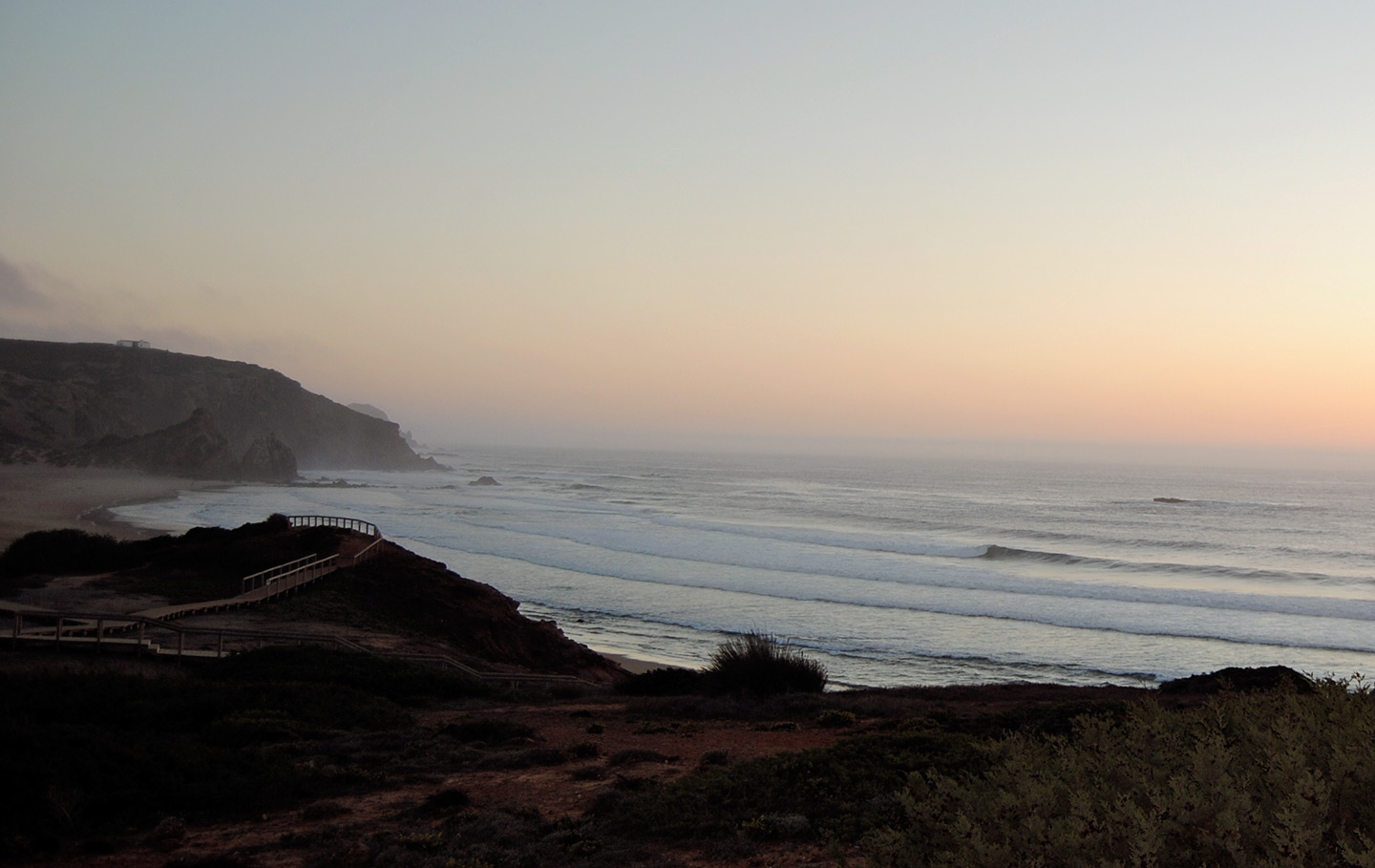 This Portuguese spot is one of the main places to surf in the southwest of the Algarve. It can be found in Carrapateira village which is in the Alentejo Natural Park on the Vicentina coastline and remains as one of the few places in Europe that is still virgin. It seems that time hasn't passed there as it has maintained its essence and tradition at the same time as becoming one of the most popular places in Portugal for surfing and bodyboarding. The strong currents that flow north to south, alternating between the deep beaches with rugged cliffs make this area, which years ago was difficult to sail and even caused many boats to sink, today one of the most popular destinations in Europe. It is precisely this extreme configuration that creates the huge variety of surf conditions there.
It's possible to get good conditions in Praia do Amado all year round as its sandbanks are stable and don't change too much despite the strong storms. It is one of the most consistent beachbreaks on this wild coastline and in the summer it is one of the safest bets as its orientation allows enough swell to enter without it being too affected by the typical Portuguese north wind which is pretty constant during the summer. It's easy to get to from Faro by following the A-22 until Lagos, a city which is only half an hour away on the N125 from Vila do Bispo and is next to Sagres, the epicentre of the zone and just a short distance from Praia do Amado in Carrapateira which is towards the north along the N268.
Este spot portugués es uno de los centrales del surfing al suroeste del Algarve, se encuentra en Carrapateira, un pueblo integrado dentro del Parque Natural del Alentejo y la costa vicentina, uno de los pocos lugares que queda en Europa aún vírgenes y donde parece que el tiempo no ha pasado manteniendo su esencia y tradición al mismo tiempo que hoy se ha convertido en un lugar de los más populares en Portugal para el surf y el bodyboard. Las fuertes corrientes que de norte a sur fluyen en esta salvaje costa que alterna profundas playas con agrestes entrantes y salientes hacen que lo que fue hace tiempo una gran dificultad para la navegación e incluso donde muchos barcos naufragaron sea hoy uno de los destinos más populares de Europa y precisamente por esa difícil configuración haya una gran variedad de condiciones para surfear.
En Praia do Amado se pueden dar buenas condiciones a lo largo de casi todo el año, sus bancos son estables y no cambian demasiado a pesar de los fuertes temporales. Es uno de los más consistentes beachbreaks de esta salvaje costa, en verano es una de las apuestas más seguras porque su orientación permite la entrada suficiente de mar sin que se vea demasiado afectado por el viento constante la mayoría de días de la típica nortada portuguesa de verano. Es fácil llegar desde Faro por la A-22 hasta Lagos, ciudad que esta a solo media hora por la N125 de Vila do Bispo, al lado de Sagres centro neurálgico de la zona y muy poca distancia de Praia do Amado en Carrapateira hacia el norte por la N268.
In Carrapateira, with its two large main beaches do Amado and Bordeira, there are possibilities all year round to enjoy the spectacular natural environment. You can walk the Bordeira dunes or along the paths that border the coast and you'll find some great lookout points. It's also a true paradise for cyclists and ramblers. We recommend the 'Vía Algarviana' route which borders the coast as from there you'll have impressive views of the Atlantic Ocean. In the small village of Carrapateira you can walk around the authentic streets and of course spend long afternoons relaxing in the cosy square where you'll find various places to go shopping or eat and drink in the relaxing atmosphere of this peaceful place.
If you want to discover the inland, Monchique village is interesting. At 902 m it's the highest point in the Algarve and this mountainous village is surrounded by various types of trees like olive, pine, acorn and aromatic plants. For the past eleven years the Arrifana Sunset Fest, a music festival which is held at the end of July, unites hundreds of people to dance and party to the rhythms of reggae, rock and hip-hop. A beach party from 5pm til 6am which shouldn't be missed.
En Carrapateira con sus dos principales y extensas playas do Amado y Bordeira hay posibilidades todo el año para disfrutar de un entorno natural espectacular. Dar paseos por las dunas de Bordeira o por los senderos que bordean la costa, y donde encontraras espectaculares miradores. Es también un verdadero paraíso para ciclistas y excursionistas, te recomendamos la "Vía Algarviana" que bordea la costa con impresionantes vistas al océano Atlántico. En la pequeña localidad de Carrapateira a un paso de las playas se puede dar un paseo por sus auténticas calles y por supuesto reposar largas tardes en su acogedora plaza donde encontraremos variados lugares para hacer compras o tomar algo en un ambiente relajado donde desconectar y disfrutar de la paz que este lugar transmite.
Si quieres descubrir el interior, es interesante la visita a la localidad de Monchique, el punto más elevado del Algarve con 902 m, este pueblo montañoso se encuentra rodeado de arboles, olivos, pinos piñoneros, alcornoques y plantas aromáticas. Tener en cuenta que desde hace 11 años se celebra el "Arrifana Sunset fest", festival de música que a finales de julio reúne a cientos de jóvenes en torno al baile, la fiesta y los ritmos reggae, rock y hip-hop. Una fiesta al lado del mar de 5 de la tarde a 6 de la mañana que no puedes perderte.