Praia do Cordoama / Portugal – Surf,Bodyboard – Vila do Vispo – Algarve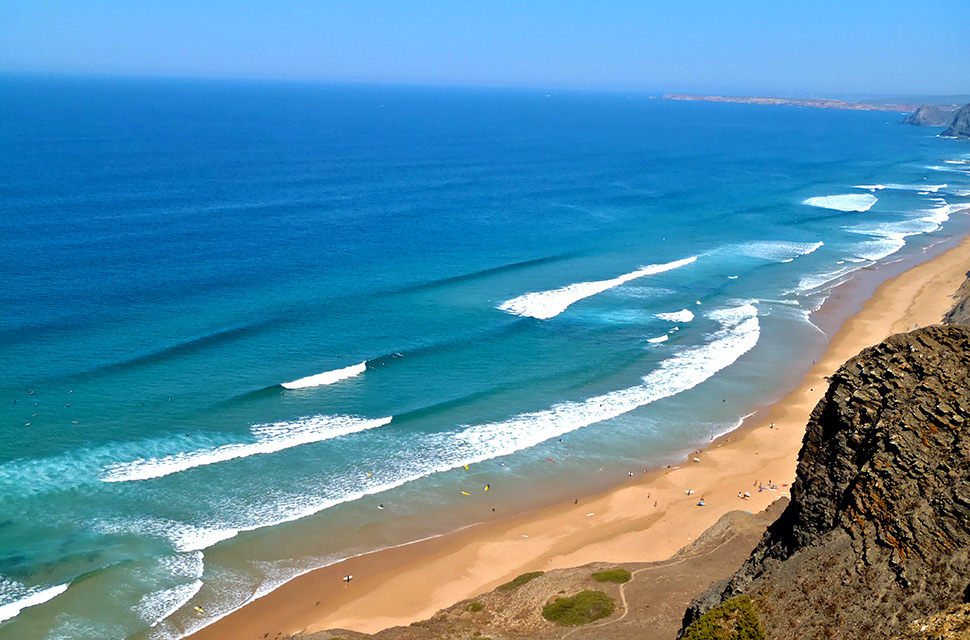 | | |
| --- | --- |
| Wave | Beachbreak |
| Ola | Playa |
| Wind | E |
| Tide | All |
| Marea | Todas |
| | |
| --- | --- |
| Swell | NW - W |
| Bottom | Sand |
| Fondo | Arena |
| Time of year | All year round |
| Época del año | Todo el año |
The seabeds are very changeable so the key is to observe which are the good peaks and what is the best tide, especially as it's an exposed beach. The best conditions for most are with a swell of 2 or 3 feet and periods which aren't too high, around 9 or 10 seconds. In this case, and depending on the tide and banks, surfable peaks appear. With 4 or 5 feet and higher periods, the waves are fast with barrels, making it perfect for high level surfing.
The best swells are NW and W and like the rest of this coastline, the optimal wind direction is E, ESE and ENE. These conditions are probable in September and October when the typical summer trade winds stop and the water temperature allows you to use a thinner wetsuit, around 2 mm and maybe even a shorty. Don't forget that the water temperature around the Algarve is cold and cool in the summer, around 18 ºC. The tide conditions are variable and it's necessary to know them, although you will be able to surf with any, a rising tide is better. If the tide is out, you can walk north towards Barriga beach which is usually very quiet but is good quality too. Take care when going in and out of the water because the tide and sand hide quite a few rocks along the whole beach.
Los fondos son muy cambiantes por lo que es clave ser muy observador de que picos son buenos y cual es su punto de marea ya que es una playa muy expuesta. Las mejores condiciones para la mayoría se dan con mar de fondo de 2, 3 pies y periodos no demasiado altos en torno a los 9, 10 segundos, en este caso aparecen cuñas muy surfeables dependiendo de la marea y la colocación de los bancos. Con 4,5 pies y más periodos altos las olas se vuelven rápidas y tubulares, es cuando aquí se dan condiciones ideales para desarrollar surfing de alto nivel.
El mejor swell es de NW y W como casi en toda esta línea de costa y el viento óptimo es E, ESE, ENE. Condiciones muy probables en septiembre y octubre cuando la típica nortada veraniega cesa e incluso la temperatura del agua permite el uso de trajes más ligeros entre un 2 milimetros e incluso cortos. No hay que olvidar que las temperaturas del agua a lo largo del año en el Algarve portugués son frías en invierno y algo frescas en verano en torno a los 18 º. Las condiciones de marea son muy variadas y es necesario conocer la playa, pero seguro en cualquier marea hay baño, mucho mejor subiendo. Si la marea está baja, se puede llegar hacia el norte hasta la playa de Barriga donde la afluencia es casi nula y la calidad bastante alta. Hay que tener precaución porque la marea y la arena esconden bastantes rocas por toda la playa, cuidado tanto al entrar como al salir del agua.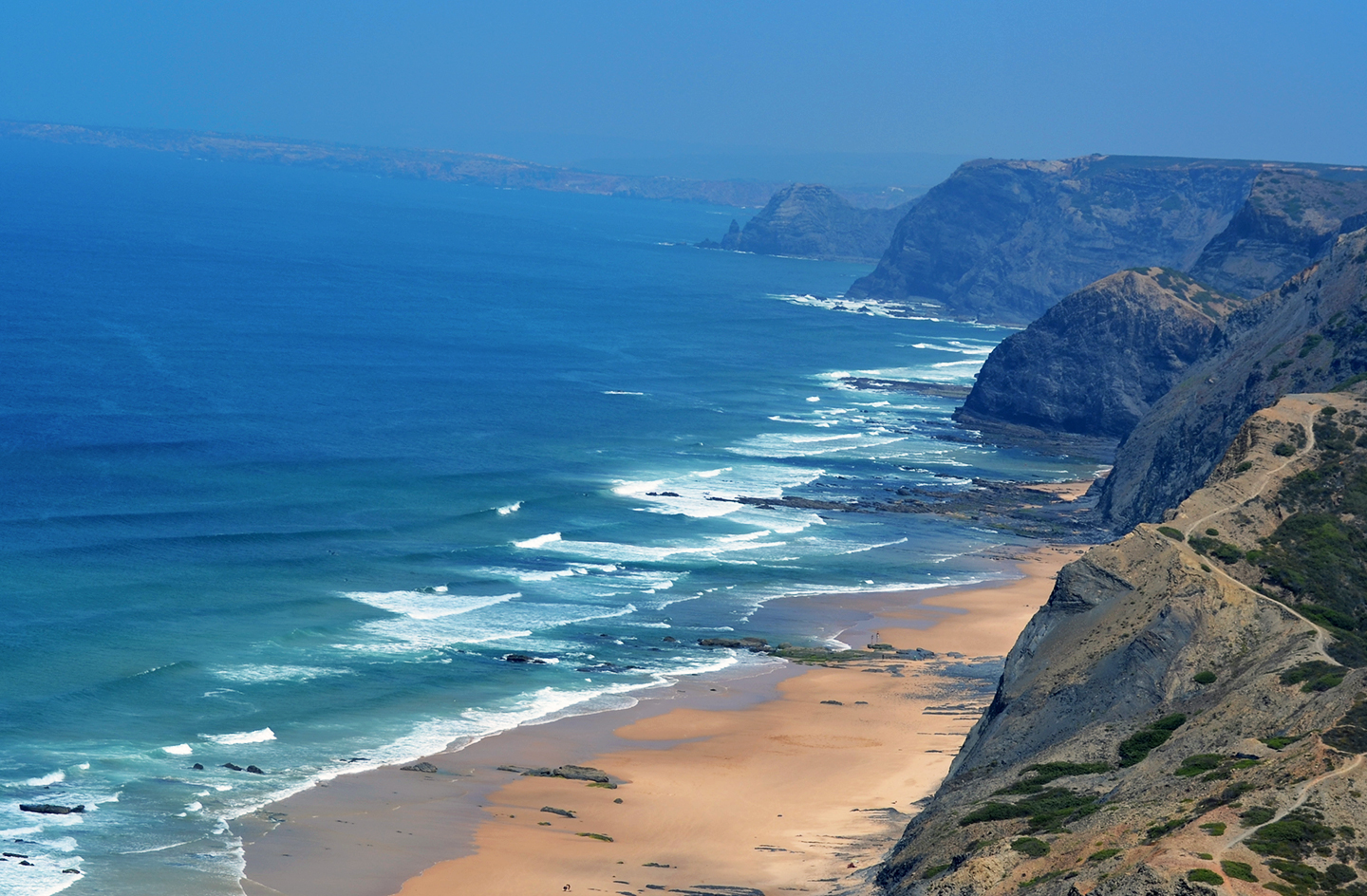 An impressive spot surrounded by enormous cliffs and a stunningly beautiful landscape. This spot is today one of the main places for surfing and bodyboarding in the southwest of the Algarve. It's in Vila do Bispo which is a village in the Alentejo Natural Park on the Vicentina coast and one of the few places in Europe which remains virgin. It's one of the most consistent spots in the region, the same as Praia do Amado but normally a bit quieter. Its popularity helped it become one of the WQS world tour stops and when it is held there every summer, it embraces this beach like it's the headquarters. It's possible to have good conditions in Cordoama throughout most of the year and when the conditions are good the banks take good shape and offer surfable peaks, however it can phase out easily due to its exposure and it doesn't hold much size. Before you head down to the beach, take a look from the viewpoint. You'll have an incredible view of all of the peaks that exist between Praia Cordoama and Castelejo, from which you can then take your pick.
You should bear in mind that it's one of the most consistent beach breaks on this wild coastline and in the summer it's one of the best bets as the north wind doesn't affect it too much. There is a good parking area, schools and a good restaurant where you can replenish your energy. It can be easily accessed from Vila do Bispo along a recently resurfaced road and also from the capital, Faro, by going on the A-22 to until Lagos and then half an hour more along the N-125 to Vila do Bispo. It's right next to Sagres which is the epicentre of the area and a very short distance to another popular surf spot, Praia do Amado in Carrapateira, which can be reached by heading north on the N-268.
Impresionante spot flanqueado por enormes acantilados y de imponente belleza paisajística. Un spot que es hoy una de los centrales del surfing y el bodyboard al suroeste del Algarve, se encuentra en Vila do Bispo, un pueblo integrado dentro del Parque Natural del Alentejo y la costa vicentina, uno de los pocos lugares que queda en Europa aún vírgenes. Uno de los spots más consistentes de la región al igual que Praia do Amado, si bien normalmente un poco menos masificado. A su popularidad ha contribuido la prueba del circuito mundial WQS que cada año acoge como sede esta playa en fechas veraniegas. En Cordoama se pueden dar buenas condiciones a lo largo de casi todo el año, con buenas condiciones el que más calidad de olas ofrece, sus bancos se colocan muy bien dando muy surfeables picos, sin embargo, se desfasa fácil debido a su exposición y no aguanta mucho tamaño. Antes de bajar a la playa es obligado asomarse al mirador desde el cual que se hay una impresionante vista de todos los picos existentes entre Praia Cordoama y Castelejo, desde ahí podrás seleccionar cual será el tuyo.
En definitiva, hay que tener en cuenta que es uno de los más consistentes beachbreaks de esta salvaje costa, y en verano una de las apuestas más seguras siempre que el viento norte no apriete demasiado. En la playa hay un buen parking, escuelas y un restaurante con buen servicio para reponer fuerzas. Se accede fácilmente desde Vila do Vispo por una carretera de reciente remodelación. Es fácil llegar desde la capital de Faro por la A-22 hasta Lagos, desde allí a media hora por la N125 hasta llegar a Vila do Bispo. Localidad esta al lado de Sagres, que es el centro neurálgico de la zona y muy poca distancia del otro gran punto del surfing en esta región Praia do Amado, en Carrapateira hacia el norte por la N268.
Cordoama is worth visting regardless of the sports activities that are available there. If the wind conditions are good, you'll see it's a good place for aerial sports like hang gliding and paragliding due to the height of its cliffs. If you want to try one of these sports out, there are some schools around that offer tandem jumps and lessons on the lower cliffs. The road back downhill is perfect for longboarders. You can also walk along the coastal paths or walk along the beach at low tide from Castelejo in the south to Barriga in the north.
Cordoama merece una visita independientemente de las actividades deportivas que ofrezca la zona. Debido a la altura de sus acantilados y si las condiciones de viento son buenas es agradable ver como es un lugar privilegiado para la práctica de deportes aéreos como Ala Delta y Parapente. Es bueno saber que algunas escuelas realizan saltos de iniciación en las zonas más bajas de los acantilados para aquellos que quieran probar. su carretera en desnivel es un lugar ideal para disfrutar del long skate. Simplemente pasear por los senderos, que recorren la costa, o por la misma playa desde el Castelejo en el extremo sur hasta Barriga en el extremo norte, siempre mejor con marea baja.