Ribeira d'Ilhas / Portugal – Surf – Ericeira – Central Portugal – Mafra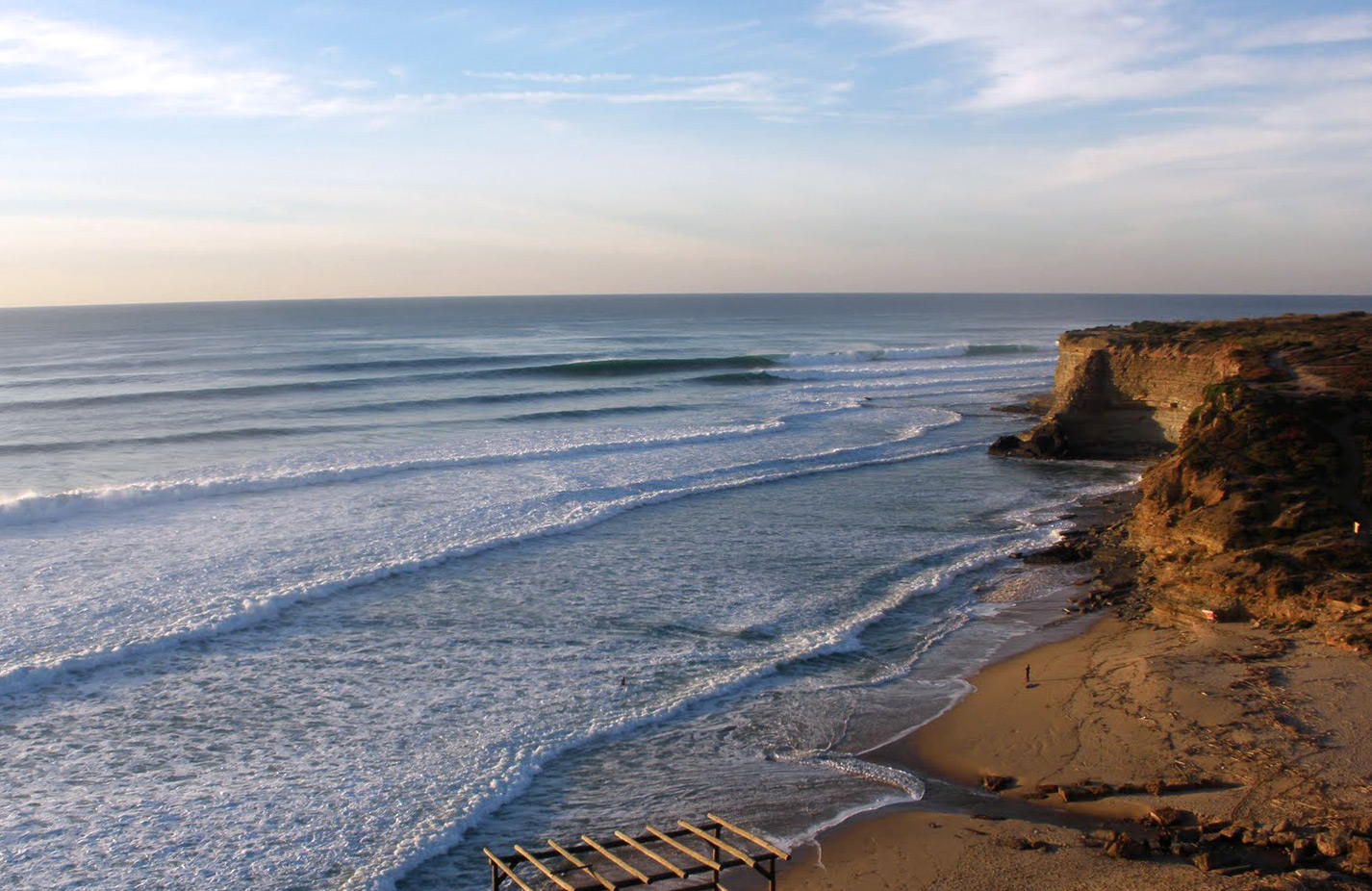 | | |
| --- | --- |
| Wave | Right pointbreak |
| Ola | Derecha |
| Wind | E |
| Tide | Medium |
| Marea | Media |
| | |
| --- | --- |
| Swell | NW - W |
| Bottom | Reef |
| Fondo | Arrecife |
| Time of year | All year round |
| Época del año | Todo el año |
Ribeira d'Ilhas is the most consistent of the Ericeira waves. The reef collects and organises any swell coming from the W and NW, being better with more N component. The best wind component is E, which is also accompanied by good weather, but it's worth knowing that the good bottoms allows you to surf good waves with light N winds. There are many take off zones and the best option is always when the swell is small. Mid tide is best as if it's too low, it doesn't collect well and the sections are shorter. If it's too high, it doesn't push well and there is backwash. The best time is at the end of the summer or autumn when the first quality swells arrive and the E winds are more frequent. During this period, the water is also warmer than the rest of the year.
It has three main sections. The last section, which is next to the beach, is the busiest and most of the time it's the one that works the most consistently and is better quality. It follows the gentle middle section, Pedra Preta, and the outside sections called Pontinha and Pontissima, which are very good quality and have verticals at mid tide. The best size is between 4 and 6 feet. With 6 feet the sections are incredible and very long, it could reach the beach from the middle section. In the summer you can often surf fun waves of around 3 feet, but you should know that the rest of the time, the typical N winds prevail from mid-morning. The biggest swells arrive in the winter and it's possible to get waves that are more than 6 feet. The weather alternates between chilly, sunny days with offshore winds and cloudy days. Although days like these are common, they aren't as cold as the hard winters in Northern Europe.
You should pay attention to the inside as the tide rises because the waves end very near to the rocks by the cliff, so it's advisable to not end up by them with a series approaching as the paddle back could be very long due to the size of the reef, but nevertheless it's easily reachable from the beach. The average water temperature is around 16 to 18 degrees in the summer and 10 to 12 degrees in the winter. A 4 mm is a safe bet. Be careful of the small sea urchins hidden in the gaps in the reef when you go in at low tide and also the strong currents with heavy seas.
Ribeira d'Ilhas es la ola más consistente de Ericeira, su arrecife recoge y ordena cualquier mar procedente desde el W, NW, mejor cuanto más de Norte. Lo mejor son vientos de componente Este, estos además vienen acompañados de buen tiempo. Es bueno saber que los buenos fondos permiten que se puedan surfear buenas olas con ligeros vientos del norte y que posee muchas zonas de take off siendo siempre es la mejor opción cuando el swell es pequeño. La mejor marea es la media, demasiado baja no recoge bien y las secciones son más cortas, demasiado alta tampoco empuja bien y hay backwash la mejor temporada es finales de verano, otoño cuando llegan los primeros swell de calidad y son más frecuentes vientos de Este, además las aguas están más calientes que durante el resto del año.
Consta de tres secciones principales, la última sección pegada a la playa es la más frecuentada y es la mayoría de veces la que funciona con más consistencia y calidad, le siguen la sección más suave intermedia de Pedra Preta, y las del outside llamadas Pontinha y Pontissima, de muy buena calidad con secciones verticales en marea media. El mejor tamaño es entre 4 a 6 pies, con 6 pies las secciones son increíbles, muy largas y puede ser que desde la sección media sea alcanzada la playa. En verano es frecuente surfear olas de 3 pies divertidas, pero hay que saber que la mayoría de días se impone la típica Nortada a partir de media mañana. En invierno es cuando llegan los grandes mares, que aquí hacen posible coger asequibles olas de más de 6 pies, se alternan días frescos y soleados con vientos offshore y días nublados que aunque numerosos, nada tienen que ver con los duros inviernos del norte de Europa.
Hay que prestar atención a que en el inside conforme la marea va subiendo las olas acaban muy cerca de las rocas del acantilado y es recomendable prestar atención de no acabar cerca con una serie aproximándose las remadas pueden ser muy largas debido a la extensión del reef pero no obstante es fácilmente accesible desde la playa. La temperatura del agua ronda entre 16 a 18 grados en verano y 10 a 12 grados en invierno, un 4 mm es una apuesta segura. Cuidado con los pequeños erizos escondidos en los huecos del reef cuando entras con la marea baja y cuando hay bastante mar las corrientes son fuertes.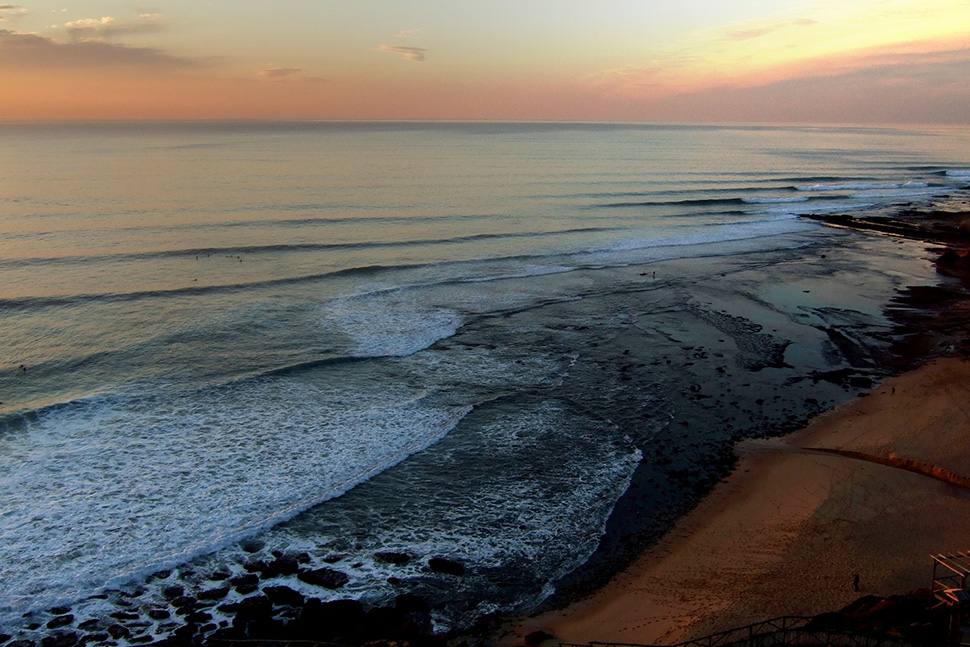 Ribeira d'Ilhas is one of the longest right point breaks in the world. It's in a small coastal city that faces the Atlantic Ocean called Ericeira. It's like the European Margaret River because of its reefs and the power of its waves. The quality and tradition of its waves make it, along with Peniche and Hossegor, one of the three surf capitals on the old continent and it's the place to be in Portugal when the east winds blow. For many years, doctors have recommended the water for its therapeutic qualities because of the high concentration of iodine. People still go there today for this reason but it's also clear that another reason for its popularity is that it's home to the best reef breaks in Europe.
There are infinite options very near to Ribeira d'Ilhas, both for surfers and bodyboarders. The left in Praia da Empa, the quieter, hollow rights at Reef, the Pedra Branca slabs, and Backdoor. A little further north is where you'll find the brutal right, The Cave, and the world class Coxos, the best right in Portugal, and on the left side of the same bay you'll find the exquisite Crazy Left. Beach breaks are also represented with Foz de Lizandro and São Lourenço Ericeira. If Ericeira is the Margaret River of Europe, Ribeira d'Ilhas is a mix between Bells and Malibu. You can see its impressive reef from the viewpoint before you go down to the beach. It's a considerable size and it offers many possibilities with the tides and various sections for any level and discipline. It's the most consistent wave in Ericeira and if the conditions are good, the highlight isn't its barrels, it's the long and well-formed sections that are punchy enough for radical manoeuvres and push you to make lines.
It's located 50 kilometres north of Lisbon International Airport and from there you need to head north on the A8 motorway and after a short while, take the A21 towards Mafra following the signs to Ericeira. Once you're there, to get to Ribeira d'Ilhas and any of the Ericeira spots, take the N247 which borders the coast. There's a parking area at Ribeira Beach but if you arrive late it is likely to be full. Near to the spot, you'll find small hotels, apartments in the centre, houses with rooms to rent and even a large campsite with all the necessary facilities and different bungalows depending on your needs.
Due to its closeness to Lisbon and its consistency, Ribeira d'Ilhas was the first Portuguese Beach to host international surf competitions. It is the most popular wave in Ericeira, but is also able to cope with more people. Sometimes the atmosphere between the good locals is very competitive but with patience and vision you'll find your waves. The Mica Lourenço boards or the popular Semente, are the best known local boards and as for the surfers, we can name legends like Jose Gregorio, Miguel Fortes, Tiago Carmona, Ze Menezes, Pyrrait, Paulo do Bairro together with the many promising youngsters like Tomás Fernandes and Keisha Eyre.
Ribeira d'Ilhas es uno de los Pointbreak de derecha más largos del mundo. Se encuentra en Ericeira una pequeña ciudad costera enfrentada al Océano Atlántico que por sus arrecifes y la potencia de sus olas es como el Margaret River europeo. La calidad y tradición de sus olas hacen que junto a Peniche y Hossegor sea una de las tres capitales del surf en el viejo continente, de lejos es el sitio de Portugal en el que hay que estar cuando soplan vientos del este. Durante muchos años los médicos recomiendan sus aguas por sus propiedades terapéuticas y alta concentración de yodo, actualmente aunque esa tradición continua, lo que está claro es que sus aguas albergan las mejores olas de arrecife en Europa.
Las opciones son infinitas muy cerca de Ribeira d'Ilhas tanto para surfers como bodyboarders, a la izquierda se encuentran en 'Praia da Empa' las menos saturadas huecas derechas de Reef y los slabs de Pedra Branca, backdoor. Un poco más al norte esta la brutal derecha 'The Cave' y la clase mundial de Coxos, la mejor derecha de Portugal, aquí en la misma bahía pero a la izquierda, la exquisita Crazy Left. Los picos de playa también están representados en los beachbreaks de Foz de Lizandro y São Lourenço Ericeira. Si Ericeira es el Margaret River europeo, Ribeira d'Ilhas es una mezcla entre Bells y Malibu en Europa. Su arrecife impresiona al ser visto desde el mirador antes de bajar a la playa, su extensión es notable, ofreciendo muchísimas posibilidades de marea y variadas secciones para cualquier nivel y modalidad. Es la ola más consistente de Ericeira y si bien no destaca por sus tubos, con buenas condiciones si destaca por sus largas y bien formadas secciones que ofrecen choque para maniobras radicales y empuje para dibujar líneas.
Se encuentra a 50 kilómetros al norte del aeropuerto internacional de Lisboa, desde allí hay que coger la autopista A8 hacia el Norte y al poco tiempo la autopista A21 dirección a Mafra siguiendo las indicaciones hasta Ericeira. Una vez aquí a Ribeira d'Ilhas y cualquier spot de Ericeira se accede por la N247 que bordea la costa. En la playa de Ribeira hay un parking que si llegas tarde suele estar completo. Y muy cerca hay hoteles pequeños, apartamentos en el centro, habitaciones individuales incluso un gran camping con todos los servicios y distintos bungalows según las necesidades.
La cercanía de Lisboa y su consistencia hace que Ribeira d'Ilhas fuera la primera playa de Portugal en albergar campeonatos de surf internacionales y que también sea la ola más frecuentada en Ericeira, pero también es la que más gente aguanta de todas, en ocasiones el ambiente entre los buenos locales es muy competitivo pero son paciencia y visión encuentras tus olas. Aquí Las tablas de Mica Lourenço o las Populares Semente son las tablas locales más reconocidas y entre los surfers nombrar míticos como Jose Gregorio, Miguel Fortes, Tiago Carmona, Ze Menezes, Pyrrait, Paulo do Bairro junto con jóvenes promesas como Tomás Fernandes, keisha eyre y atento a los niños porque aquí son muchos y muy buenos.
Ericeira is a historic fishing village which receives a lot of tourism and is linked directly to the sea. It's a holiday destination in Portugal and you can expect a good atmosphere and busy beaches in the summer months. The village maintains its essence and original architecture in the central cobblestone streets. It's advisable to try the excellent quality cuisine, especially the grilled fish. You can enjoy the ocean views from any of the viewing points whilst enjoying a Superbock (a Portuguese beer). Foz de Lizandro Beach is a good place to surf as well as eat and drink something whilst watching the beautiful Portuguese sunsets. There are a large amount of places to eat and drink distributed along the wooden boardwalk that leads to the beach.
The Cabo da Roca, located just 50 minutes south in the Sintra-Cascais Nature Park, is the most western part of Europe. The cliff in the cape is 140 metres above sea level and from the top you will have spectacular views, above all at sunset. You could also visit Azenhas do Mar Beach or the rock formation Boca do Inferno. The capital of Portugal, Lisbon, is just 40 minutes away and there you could visit Castelo de São Jorge, the old market Feira da Ladra in Santa Clara every Tuesday and Saturday, Parque Das Nacoes, Parque Eduardo VII or the skatepark under the Vasco da Gama bridge.
Ericeira es una ciudad histórica, pesquera, turística ligada directamente al mar. Es un destino de vacaciones en Portugal y cabe esperar un gran ambiente y playas llenas en meses de verano. La ciudad mantiene en sus calles céntricas la esencia y la arquitectura original. Por el centro de la villa es recomendable disfrutar de la calidad de su gastronomía con algún asado de pescado. En cualquier mirador al océano es un placer disfrutar de una superbock con vistas al océano, la playa de Foz de Lizandro es un buen lugar tanto para surfear como para comer y tomar algo en los bellos atardeceres portugueses. Aquí hay un gran número de locales para comer y tomar algo que se distribuyen a lo largo de la pasarela de madera que da acceso a la playa.
El Cabo da Roca, ubicado dentro del Parque Natural de Sintra-Cascais, es la parte más occidental de Europa, a unos 50 minutos al Sur. El acantilado del Cabo está a 140 metros por encima del nivel del mar y tiene unas vistas espectaculares, sobre todo al atardecer. Por otro lado, puedes visitar Playa de Azenhas do Mar o la formación rocosa Boca do inferno. La capital de Portugal se encuentra a tan sólo 40 minutos. En Lisboa puedes visitar Castelo de São Jorge, el histórico mercado Feira da Ladra en el campo de Santa Clara todos los martes y sábados, Parque Das Nacoes, Parque Eduardo VII o pásate por el Skatepark debajo del puente Vasco da Gama.