Sotavento / Spain – Kitesurf – Fuerteventura – Canary Island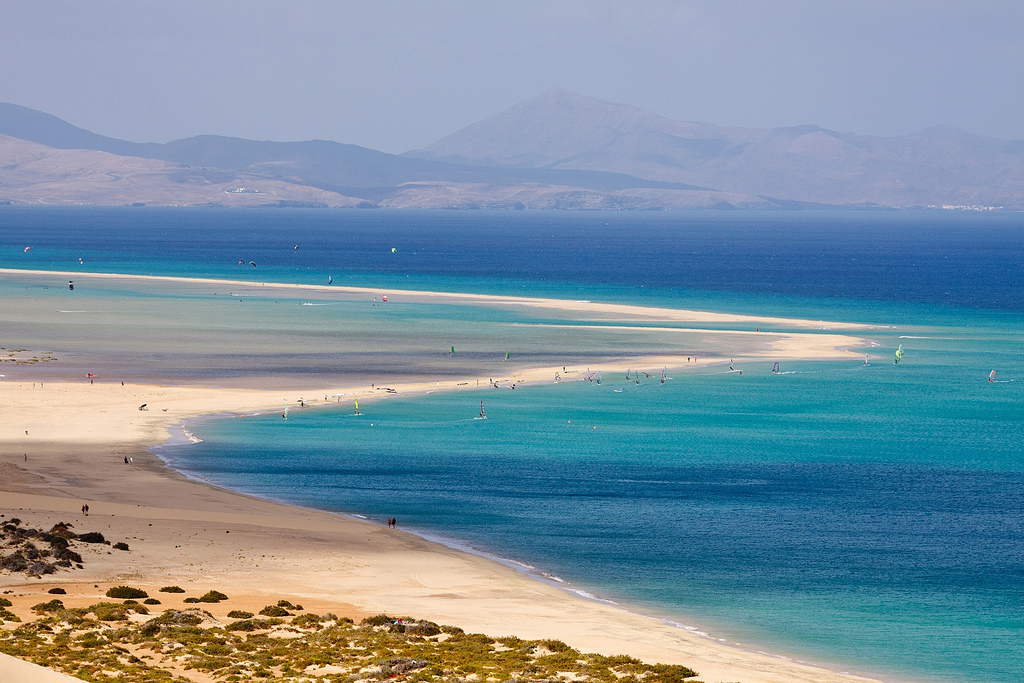 | | |
| --- | --- |
| Wave | |
| Ola | |
| Wind | NW, SE |
| Tide | High |
| Marea | Alta |
| | |
| --- | --- |
| Swell | |
| Bottom | Sand |
| Fondo | Arena |
| Time of year | From May to September |
| Época del año | De mayo a septiembre |
It has an average temperature of 20ºC in the winter and 28ºC in the summer. In July and August, the wind is very strong and can very gusty. Sotavento has two sailing spots: Pajara Beach and the unspoilt Risco del Paso. The sea is flat but quite choppy at both spots. There's a natural lagoon where you can sail without danger as it's about one metre deep, although there are some shallower areas to watch out for. It forms depending on the phases of the moon so it will be there for around 10 to 14 days each month. The optimal geographical conditions mean that the wind is stronger there than in the surroundings. The side-offshore wind, which is a bit gustier on the lagoon than in the sea, leaves flat water conditions. It can last all day and is stronger in the afternoon.
Podemos disfrutar todo el año de una temperatura media de 20 ºC en invierno y 28 ºC en verano. En julio y agosto el viento es muy fuerte y puede ser muy racheado. Sotavento tiene dos zonas para navegar la Playa de Pajara y el Risco Del Paso. El mar es plano en ambos lugares, pero con bastante choppy.
Hay una laguna natural de poca profundidad donde encontramos a los rider que se incian en el Kitesurf, se suele formar dependiendo de las fases de la luna, es decir, aparece de diez a catorce días cada mes. Las óptimas condiciones geográficas hacen que el viento sea muy fuerte, dirección side offshore un poco racheado en la laguna y más estable en el mar, dejando el agua plato.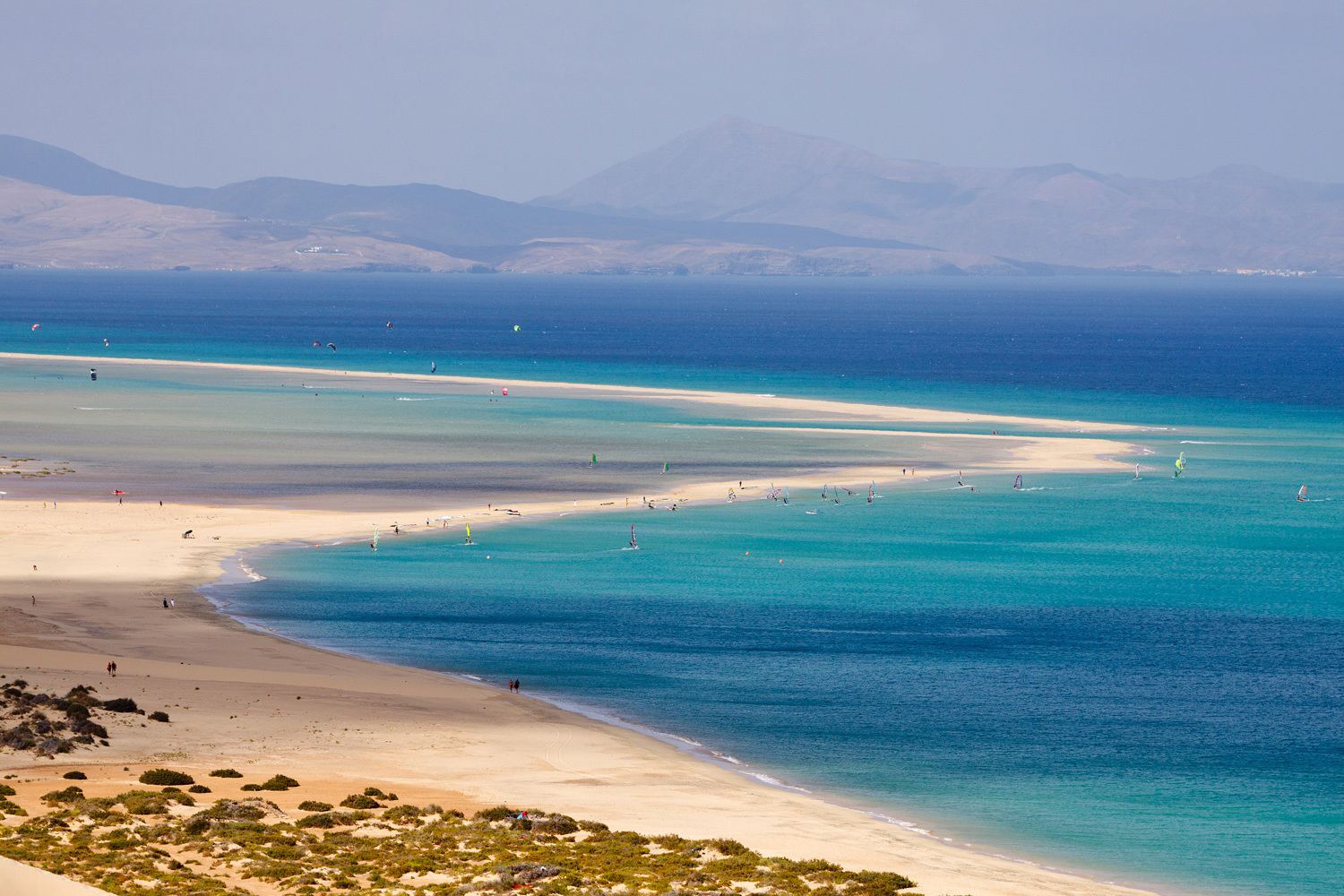 Sotavento is a beach in Costa Calma, in the south of Fuerteventura, approximately 60 kilometres from the airport. The extensive golden sandy beach with crystal waters and average temperature of 20ºC, provides conditions for kitesurfers of all levels. Its lagoon which covers more than 4 kilometres, appears according to the tide and is ideal for beginners. The Gran Slam Fuerteventura Windsurf and Kitesurf World Championships have been held there for 28 years. The middle part of the beach, called Risco del Paso, is a continuation of the North Sotavento Beach and is also known as Barca Beach. It offers many services and thanks to the size and is never too crowded.
To get there from the airport in Puerto Rosario, you need to head south in the direction of Morro Jable and Costa Calma which is an hour and a quarter away. It could be cheaper to get a flight to the neighbouring island of Lanzarote and take a ferry from there. The ferry tickets are cheap, there's no need to reserve them and the journey takes just 15 to 20 minutes.
Sotavento es una playa situada en la localidad de Costa Calma, al sur de la isla de Fuerteventura, a unos 60 kilómetros del aeropuerto. Esta playa de gran extensión de arena dorada y aguas cristalinas con una temperatura media de 20ºC, reúne todas las condiciones como destino para riders de todos los niveles. Su laguna con más de 4 kilómetros de extensión aparece según la marea y es idónea para principiantes. En este spot se lleva celebrando desde hace 28 años el campeonato del mundo Gran Slam Fuerteventura Windsurf y Kitesurf. La zona media de la Playa de Sotavento se llama también Risco del Paso, y es la continuación de la Playa de Sotavento del norte, conocida también como Playa Barca. Es un lugar frecuentado por turistas, ofrece servicios y debido a su amplio espacio nunca está demasiado masificada. Está zona está considerada como nudista.
Para llegar desde el aeropuerto de Fuerteventura, en Puerto del Rosario, hay que dirigirse hacia sur, en dirección Morro Jable y Costa Calma a una hora y cuarto en coche. Puede ser una opción más económica coger un vuelo a Lanzarote y luego el ferry que une las dos islas. El billete del ferry es barato, no hace falta reservar y el trayecto dura entre 15 y 20 minutos.
Costa Calma has many activities to offer as it is orientated around tourism, from surf/kite/wind schools and diving centres to buggy rides. A recommended excursion is boat trip to Los Lobos Island. It's six kilometres squared and sits between Fuerteventura and Lanzarote. It is a Biosphere Reserve natural park with numerous endemic species and a valuable habitat with amazing views. The Risco de las Peñas viewpoint at 426 metres high provides brilliant views of the islands. The varied landscape on the route to Bentacuria is spectacular. There's a large car park and a plaque that explains what can be seen from the railings. Another way to explore the island's lunar landscape is by mountain bike or quad. You'll find numerous shops in the village that rent them and you can even go on a guided tour with a group. In addition to the fine dining, cultural tourism, wellness and sports you should visit Jandía Beach in Esquinzo village. It's an extensive beach with a special turquoise colour and small sandy islands around it. The Sacred Mountain, north of Tindaya village is also worth visiting. It was once a sacred place for the old settlers and radiates magic and peacefulness. There is a lovely trekking route from the village to the mountain. Lastly, the Cueva Volcánica, north of Llano Villaverde, is a 648 metre long volcanic pipe with a subterranean gallery where the secrets about the formation of Fuerteventura and the home of the only white arachnid in existence emerge.
La localidad de Costa Calma nos ofrece múltiples actividades ya que es una zona orientada al turismo, desde escuelas de surf, kite y windsurf, centros de buceo con varias inmersiones por la zona, hasta rutas en buggy.
Una alternativa muy recomendable es la excursión en barco a la pequeña isla de Los Lobos. Con 6 kilómetros cuadrados y situada entre las islas de Fuerteventura y Lanzarote, es un precioso lugar para apartarte por un momento de todo. La isla es un Parque Natural con numerosas especies endémicas y un hábitat muy valioso con excelentes vistas, también es Reserva de la Biosfera.
El mirador Risco de las Peñas a 426 metros de altura, brinda unas geniales vistas de las islas. El camino por la carretera hacia Bentacuria ofrece un variado paisaje. Hay un buen aparcamiento y un panel didáctico que explica a la perfección los enclaves que se divisan desde la balaustrada. Otra forma diferente de explorar la isla a través de los paisajes lunares, es mediante el alquiler de bicicletas de montaña y quads. En el pueblo que decidas pasar tu estancia, encontrarás numerosas tiendas de alquiler, además si lo deseáis, realizan rutas guiadas por grupos. Desde el mismo spot podrás contratar también estos servicios en la escuela de Kitesurf Flag Beach.
Existe una amplia lista de turismo gastronómico, cultural y deportivo: la Playa de Jandía en el pueblo de Esquinzo, muy extensa y de especial color turquesa con pequeñas islas de arena fina alrededor. La Montaña sagrada, al Norte del pueblo de Tindaya, fue antaño un lugar sagrado de los antiguos pobladores que irradia magia y paz unido al arte de la zona, también disponemos de un estupendo sendero desde el pueblo hacia la montaña. Por último, la Cueva Volcánica al Norte de Llano Villaverde y muy próxima al spot, brinda 648 metros de tubo volcánico con final en un gran Jameo donde emergen los secretos sobre la formación de Fuerteventura y hogar de la única araña blanca existente.