Sprecksville / United States – Windsurf – Maui – Hawaii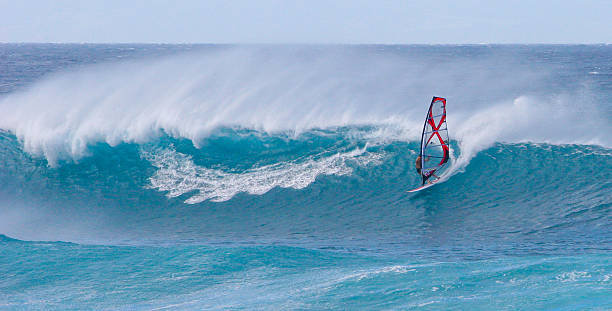 | | |
| --- | --- |
| Wave | |
| Ola | |
| Wind | ENE |
| Tide | All |
| Marea | Todas |
| | |
| --- | --- |
| Swell | NNW |
| Bottom | Reef |
| Fondo | Arrecife |
| Time of year | All year round |
| Época del año | Todo el año |
At this spot, the wave is a little messy compared to other spots in Maui but it's very good for jumps. The wind is side-onshore and is normally stronger than at other spots, although it is usually gusty. At low tide, it's shallow and the wave breaks about 300 metres from the shore. It's flat between the shore and the wave making it a good spot for practicing Freestyle manoeuvres and Slalom. The access is easy as it is a sandy beach.
En este spot la ola es un poco desordenada en comparación con los otros spots de Maui, pero es un buen spot para saltar. El viento es side-onshore y normalmente más fuerte que en otros spots, aunque suele ser racheado. Con marea baja hay muy poca profundidad y la ola rompe a unos 300 metros de la orilla. Entre la orilla y la ola se queda plano, por tanto, es un buen spot para Freestyle y Slalom. El acceso es muy fácil ya que la playa es de arena.
Sprecklesville refers to the beach zone between Camp One and Baldwin Beach Park. The spot is also known as Euro Beach due to its popularity with the Europeans that go there to practice. It's perfect for beginners in general as well as beginner wave riders. It's more of a spot for jumps than it is for surfing and it's easy to access with flat water, until a little more than half a mile where you'll find the reef where you can surf the waves. Take care not to scratch yourself on the reef as in a worst case scenario, it's quite a swim back to the shore. One thing that is certain is that there won't be any kites at this beach as it's too close to the airport.
Sprecklesville se refiere a la zona de playa entre Camp One y Baldwin Beach Park. Este spot, también conocido como Euro Beach debido a su popularidad entre los europeos que vienen a practicar en estas aguas, es perfecto para principiantes en general y principiantes en olas. Es un spot más orientado para el salto que para surfear. De fácil acceso con agua plana, hasta poco más de media milla donde se encuentra el arrecife para navegar las olas, pero mucho cuidado con las rasgaduras, debes estar preparado para un largo nado en el peor de los casos. La playa de Sprecks está fuera del alcance del kiteboarding debido a la cercanía del aeropuerto.
Maui has many interesting activities to offer. The south and west have a better climate and very beautiful beaches that are definitely worth visiting. One of the visitors' favourites is Kaanapali Beach, which features in all the world's best beach listings, and on the south side, Makena Beach is also world class. Honolua Bay is a special place, above all for diving in the summer. It forms part of the Mokuleia Marine Life Conservation District for the importance of its rich marine life, you can be sure to find an abundance of fish and coral. We recommend renting the equipment from the local shops, it'll be a lot more economical.
Watching the sunrise at the Kaleakala Crater is an experience you will never forget. You'll have to leave very early and don't forget to take warm clothes with you. You can go with an agent on an organised trip or by yourself with a rental car if you pay a small entrance fee. If you have rented a car, you shouldn't miss driving along Hana Highway, famous for its majestic waterfalls, wild coastline and exuberant tropical rainforest. If you visit the island in February, you are lucky as it's the best time to see the whales during their annual migration. You'll see them easily from the Pali cliffs, between Lahaina and Wailea.
Son muchas y atractivas las actividades que ofrece una isla como Maui. El Sur y el Este ofrecen el mejor clima y sus bellísimas playas bien merecen una visita, una de las favoritas de los visitantes es Kaanapali Beach, candidata en todas las listas a mejor playa del mundo, en el lado sur Makena Beach es también una playa de clase mundial. Honolua Bay es un lugar privilegiado para bucear sobre todo en verano, forma parte del Mokuleia Marine Life Conservation District por la importancia de su riqueza marina, la abundancia de peces y corales está asegurada y te recomendamos que alquiles los equipos en tiendas locales, mucho más económico.
Ver amanecer en el Kaleakala Crater es una experiencia que jamás olvidarás, tendrás que salir bien temprano y no olvides ropa de abrigo, podrás acceder mediante un tour organizado o por tu cuenta en coche alquilado pagando una pequeña cuota de entrada. Si has alquilado el coche no puedes perderte la carretera de Hana, famosa por sus majestuosas cascadas, costa salvaje y exuberante selva. Si te encuentras en febrero en la isla, estas de suerte puesto que es la mejor época para ver ballenas en sus migraciones anuales, desde los acantilados de Pali entre Lahaina y Wailea las podrás ver a fácilmente.