Teahupoo / French Polynesia – Surf – Tahiti – Society Island – South Pacific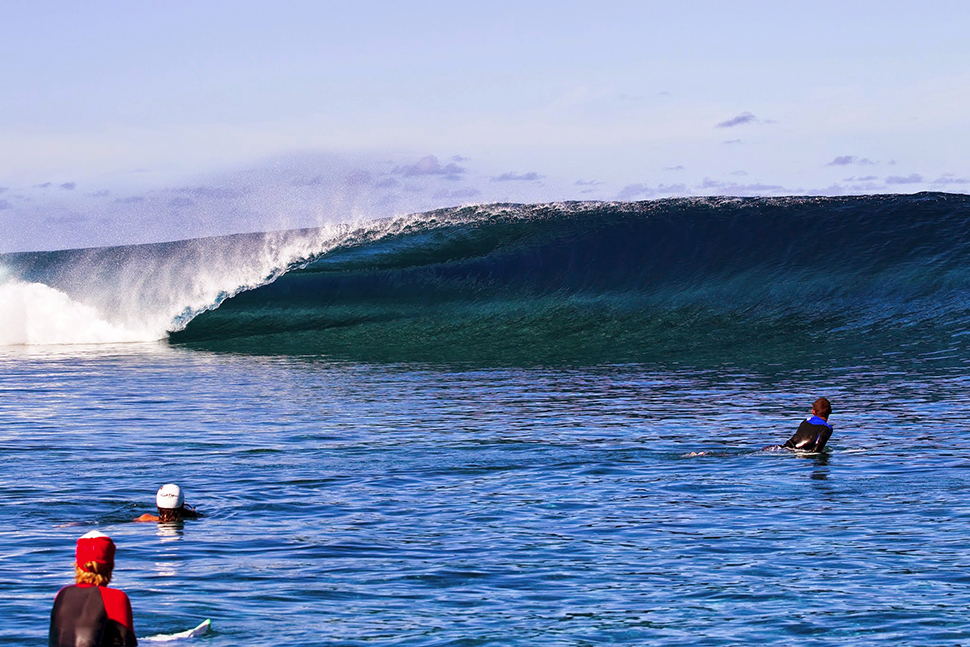 | | |
| --- | --- |
| Wave | Left |
| Ola | Izquierda |
| Wind | NE |
| Tide | All |
| Marea | Todas |
| | |
| --- | --- |
| Swell | SW - S |
| Bottom | Reef |
| Fondo | Arrecife |
| Time of year | Spring - Fall |
| Época del año | Primavera - Otoño |
When the waves hit the Teahupoo reef they have a mutant effect like no other in the world. It's as if the ocean rises above the reef leaving behind a flat surface that obscures the hollow step that lies ahead. A hollow drop that starts at the peak of the reef and skirts it, creating an enormous barrel that falls with what is, without doubt, the fattest lip in the world. This is because the difference in depth between the reef and the ocean is so big that it's impossible for Teahupoo to break in a normal way. It goes quickly from a depth of 150 feet to 20 feet and from there, in less than 5 seconds, to 5 feet and these are circumstances that make Teahupoo rideable for only a few people and where the definition of a slab makes sense.
It's fast and many times has a critical take-off so you can't have any doubts because the lip isn't forgiving and it will drag you under, but, if you manage to hold the drop in, it will be one of the best barrels of your life. In fact, this wave is a barrel from beginning to end with no room for manoeuvres and this is why in competitions points are only scored on tube-riding. The best time to go is from April to September and from May to June, at the beginning of the austral winter, as this is when the most active fronts are generated in Antarctic latitudes sending the biggest swells of the year.
It starts working with 2 feet, until 30 feet. With 2-3 feet you can link the barrels and do manoeuvres. Don't underestimate the conditions because what is 2 feet at Teahupoo is 5 feet at your regular beach, or what looks like an 8 foot wave from behind converts to 15 square feet. The dynamics and the quality of the wave depend on the orientation of the swell. With SSE it's relatively less powerful and the wave is shorter. With S it gets better and with SSW it starts to show its best face, lengthening its line from the first section and leaving an exit in the last section before closing. It's also good with SW but it's more demanding. The last section closes if the period is more than 15 seconds but medium periods of 12 to 14 seconds often give the best conditions.
The best waves are definitely the first ones in the set because the following waves collect all the turbulence of the first. There are three take off zones and for these the size doesn't matter because it depends more on the swell direction and your abilities. You need to constantly pay attention to the current as it's easy to be distracted by the sets, which are very long, and be dragged onto the reef. There's no rehearsal at Teahupoo so you need to be sure about it. It's recommendable to use a strong, wide board with an adequate rocker, one that's not too pronounced, and it's important to have a bit more volume at the nose and throughout the whole board to make surfing this demanding wave easier. Be careful of the live coral, the currents and the sporadic tiger shark that may appear, although no one has ever been attacked.
Las olas cuando se encuentran con el arrecife de Teahupoo crean un efecto mutante sin igual en el mundo, es como si el mar se subiera de repente sobre el arrecife dejando una superficie plana por detrás que no deja ver el escalón hueco que hay por delante, un desplome que empieza desde el pico y va bordeando el arrecife, a su paso crea un tubo enorme con uno de los labios más grueso del mundo. Esto se explica porque la diferencia de profundidad entre el arrecife y el océano es tan grande que es imposible que Teahupoo pueda romper de manera normal. La profundidad del océano pasa en poco tiempo de 150 pies a 20 pies, y de ahí en pocos segundos a 5 pies, estos factores son una ecuación perfecta que hace que Teahupoo sea surfeable. Un ejemplo para definir lo que es un slab que aquí en Teahupoo toma sentido. El take off es rápido y vertical, por ello dudar significa fallar, el labio no perdona y atrapa como si fuera un martillo, si aguantas el 'drop in' el tubo será uno de los mejores de tu vida. Esta ola es un tubo de principio a fin sin lugar para maniobras, por ello en competición solo puntúa el tubo.
La mejor temporada va de abril a septiembre y los meses de mayo a junio con la entrada del invierno austral cuando se generan los frentes más activos en latitudes antárticas enviando las marejadas más grandes del año. Empieza a funcionar de 2 hasta 30 pies. Con 2 y 3 pies se pueden encadenar tubos y maniobras, estas son condiciones que no hay que subestimar porque en Teahupoo 2 pies son 5 en tu playa habitual o una ola de 8 pies por detrás se convierte en 15 pies cuadrados por delante. La dinámica y la calidad de la ola dependerán de la orientación del swell. Con SSE hay relativamente menos potencia y la ola se hace más corta. Con S mejora y con SSW empieza a mostrar su mejor cara alargando su recorrido desde la primera sección, y dejando una salida en la última sección antes de cerrar. Con SW también son muy buenas condiciones pero es más exigente y la última sección cierra si el periodo es mayor de 15 s, por ello con SW periodos medios de 12 a 14 s son las mejores condiciones.
Las mejores olas son las primeras de la serie porque las siguientes recogen toda la turbulencia de las primeras. Hay tres zonas de take off y da igual el tamaño, todo depende más de la dirección del swell y de tus habilidades. Es muy importante estar atento porque con la corriente es fácil que la serie te atrape despistado, el peligro es grande porque las series son largas y serás arrastrado por el arrecife. En Teahupoo es mejor asegurar porque aquí no se viene a ensayar, es recomendable usar una tabla ancha, fuerte, con un rocker adecuado no demasiado pronunciado, es también muy importante llevar un poco de volumen extra para hacer todo un poco más fácil en esta exigente ola. Precaución con el coral vivo, las corrientes y los esporádicos tiburones tigre que los hay aunque nunca han atacado a nadie.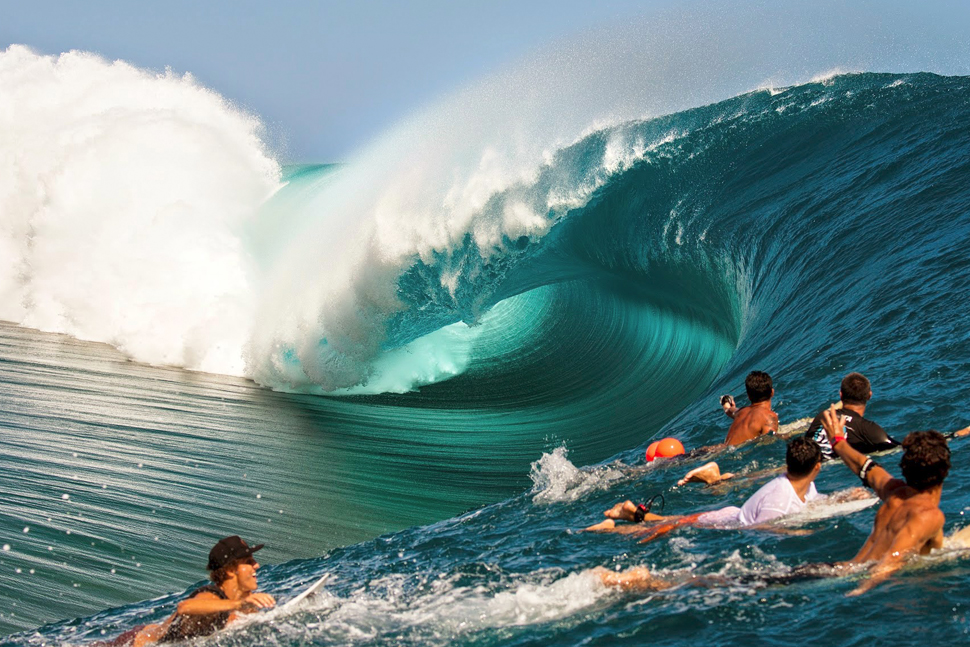 The Teahupoo left can be found at the end of the road that runs along the southwest coastline of Tahiti. A perfect wave and the most visibly recognisable in the world. It's a wave which has been able to rediscover the sport and take it to limits that were unthinkable years ago. The Tahitian Thierry Vernaudon was the first surfer in Teahupoo back in 1985 along with other locals, but the waves that they surfed were nothing like the mutant beasts that we see today. Bodyboarders Mike Stewart and Ben Severson were the first to surf there with serious conditions in 1986 and Stewart admitted that it was even more powerful than Pipe. In the nineties the first pro surfers arrived and in 1997 the first official event the Black Pearl Horue Pro, which belongs to the WQS circuit and is a qualifier for the elite WCT event, was held there. It was won by a young Andy Irons and a year later both the legendary Andy and Teahupoo became part of the elite WCT.
In 1998 the Gotcha Tahiti Pro event was held there and a young Koby Abberton triumphed at the event which was celebrated with sets of twelve feet and spectacular conditions. In 1999 the first Billabong Pro Tahiti was held and in 2000 the millennium tow-in session with Laird Hamilton in front. Everything that happened in these waters became memorable, the events, sessions and great feats, all of which definitely gave Teahupoo its place today and which put it up there with Pipeline as the two most important waves in the world.
Travelling to Tahiti isn't complicated, although the prices of the flights are a little high. You have to fly to Faa'a International Airport in Pape'ete and go to Teahupoo with public transport. There is a wide variety of accommodation and it's recommendable to stay at places that are managed by local families. Hiring a car is an option but you can also find out how to reach other nearby waves by boat. Once you're in the Teahupoo channel you're only a 15 minute paddle away from making a dream come true. It can sometimes be busy, but the real problem comes when bigger waves arrive and everyone wants to see the show up close. The wave's channel has become a business and it gets overrun by small boats that offer rides to get the best views. It's a worrying situation because they don't take adequate safety measures and there aren't medical services nearby. Another problem stems from the tow-in as the locals want to prohibit this whilst there are people paddling out to the waves.
Surf forms part of the Tahitian culture and it's important for it not to be affected by the initiatives of some. It's essential to pay attention to the locals' instructions and leave them to control the peak. Education and kindness will be your best virtue. It's obligatory to name big Tahitian locals like Hira Terinatoofa, Raimana Van Bastolaer, Tikanui Smith, Michel Bourez (currently in the WCT) and Manoa Drollet, the renowned big charger and free surfer who is capable of everything in competitions. A special mention to the best Tahitian yet, nicknamed The Small Prince, Malik Joyeaux, who was only 25 years old when he passed away at Pipeline. All being said, it's clear that surfing wouldn't be the same today without Teahupoo and although there could be a wave which surpasses it, this wave hasn't yet appeared and it's possible that like the road that leads there, it's 'the end of the road'.
Al final de la carretera que bordea el suroeste de Tahiti se encuentra la izquierda de Teahupoo, una ola que genera un tubo perfecto, brutal en ocasiones y a simple vista el más reconocible del mundo. Una ola que ha sido capaz de re-descubrir el deporte y llevarlo a limites impensables años antes. El Tahitiano Thierry Vernaudon es admitido como el primer surfer en Teahupoo allá por 1985 junto a otros locales, pero las olas que surfearon ellos nada tienen que ver con las bestias mutantes de hoy. Los Bodyboarders Mike Stewart y Ben Severson fueron los primeros que surfearon aquí en 1986 con condiciones muy exigentes, Stewart admitió que era incluso más potente que Pipe. En los noventa llegaron los primeros surfers profesionales y en 1997 se celebra el primer evento oficial llamado 'Black Pearl Horue Pro' perteneciente al circuito WQS y clasificatorio para entrar en la elite del WCT, en ese evento un joven Andy Irons resultó vencedor y al año siguiente tanto el legendario Andy como Teahupoo entraron a formar parte de la elite del WCT.
En 1998 se celebró aquel mítico 'Gotcha Tahiti Pro' en el que triunfo un joven Koby Abberton, este evento se realizó con series de doce pies y condiciones espectaculares, después en 1999 se celebró el primer 'Billabong Tahiti Pro', en el 2000 la famosa y conocida como 'sesión del milenio' en tow-in con Laird Hamilton al frente. Así todo lo que llegaba a estas aguas se convertía en algo para recordar, memorables sesiones, eventos y hazañas, con todo ello definitivamente Teahupoo es en la actualidad considerada junto a Pipeline las dos olas más mediáticas e importantes del mundo. Viajar a Tahití no es complicado, aunque el precio del vuelo es un poco elevado. Hay que volar al aeropuerto de faa'a en Pape'ete y llegar a Teahupoo con transporte público. La variedad de alojamiento es amplia, siendo muy recomendable alojarse en lugares gestionados por familias locales. Alquilar un coche es una opción, pero será más útil informarse como llegar en bote a otras olas cercanas. Una vez en el canal de Teahupoo estarás a solo 15 minutos remando de hacer un sueño realidad.
En ocasiones habrá mucha gente, pero el problema real viene cuando entran olas más grandes y todos quieren ver de cerca el espectáculo. El canal se ha convertido en un negocio, se colapsa con pequeños botes y embarcaciones que ofertan las mejores vistas del tubo en primer plano. Esta es una situación que está empezando a preocupar, porque no se toman las medidas de seguridad adecuadas y no existen servicios médicos cercanos. Otra polémica deriva del tow-in que los locales quieren prohibir mientras haya surfers cogiendo olas a remo. Aquí, en Tahiti, el surf forma parte de la cultura y es muy importante no dejar que se manche por iniciativas de unos pocos, es primordial prestar atención a las indicaciones de los locales y dejar que sean ellos los que controlen el pico, la educación y la simpatía será tu mejor virtud.
Es obligatorio nombrar a grandes locales tahitianos como Hira terinatoofa, Raimana Van Bastolaer, Tikanui Smith, Michel Bourez actualmente en WCT y Manoa Drollet destacado big Charger y free surfer capaz de todo en competición. Mención especial al mejor tahitiano hasta la fecha apodado el 'pequeño príncipe', Malik Joyeaux, fallecido en 2005 con tan solo 25 años en Pipeline. Con todo lo dicho, está claro que hoy día el surf ya no sería lo mismo sin Teahupoo y aunque pueda existir una ola que la supere, hasta el momento esa ola no ha aparecido, y es posible que como la carretera que aquí llega, este sea 'el final del camino'.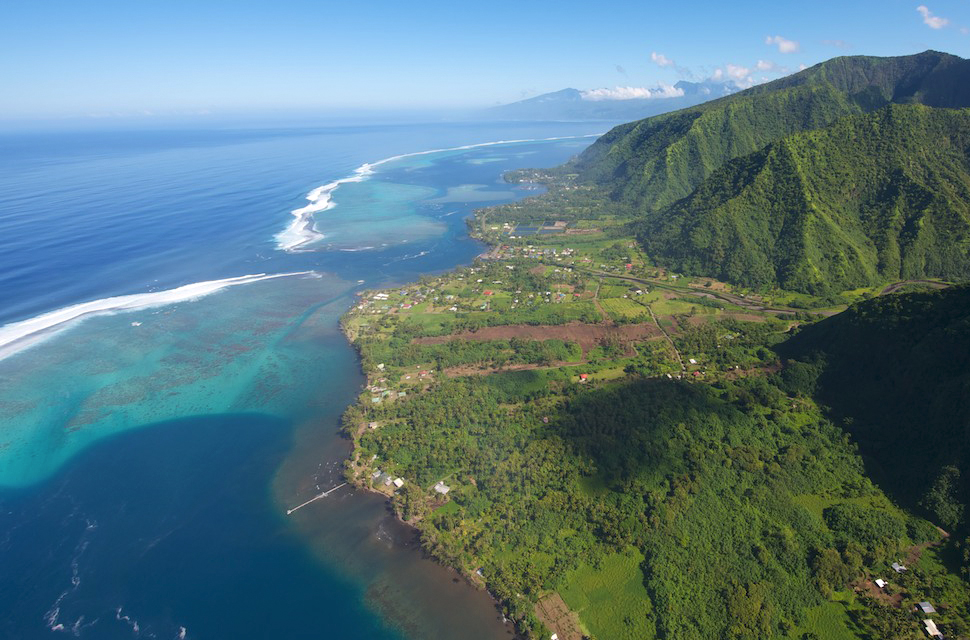 Tahiti is a beautiful unspoiled island which has conserved its original culture. You can visit the towering waterfalls hidden inland among the exuberant vegetation. The volcanic origin of the island offers several options, such as a trips to the Arahoho Blowhole in the north of Tahiti Nui or to the lava tunnels in front of beautiful cliffs. Another interesting visit is 'Le Marche' (The Market) in Pape'ete's downtown which has a characteristic smell due to the different varieties of tanning oils. You can buy anything such as souvenirs, fruit, vegetables, postcards and familiarise yourself with the local beer, Hinano. From here you can organise your surf trip of the French Polynesia.
Tahití es una isla con una belleza auténtica y simple, donde se ha sabido conservar su cultura original. Podrás realizar visitas a distintas cascadas del interior escondidas entre la exuberante vegetación. El origen volcánico de la isla ofrece diferentes opciones como la visita al "Hoyo soplador" al norte de Tahiti Nui, un túnel de lava frente a un acantilado de gran belleza. Merece mucho la pena perderte por el mercado "Le Marche" en el centro de Pape'ete, con un olor característico originado por las diferentes variedades de aceites. Podrás comprar cualquier cosa, souvenirs, fruta, verduras, tarjetas postales, y familiarizarte con la cerveza local hinano, etc. Es el punto de partida para organizar tu surf trip por la Polinesia Francesa.