Thurso East / United Kingdom – Surf,Bodyboard – Scotland – Caithness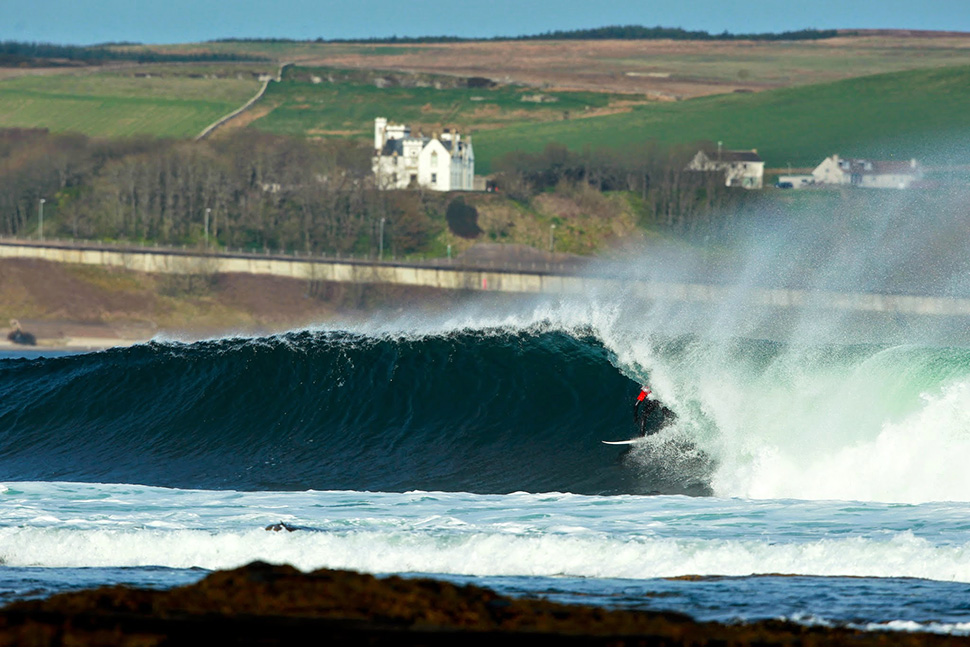 | | |
| --- | --- |
| Wave | Right |
| Ola | Derecha |
| Wind | S - SE |
| Tide | Medium |
| Marea | Media |
| | |
| --- | --- |
| Swell | NW - N |
| Bottom | Reef |
| Fondo | Arrecife |
| Time of year | From August to October |
| Época del año | Desde Agosto a ctubre |
A 100 metre long right that holds between 1 and 4 metres and works better at mid tide. SW wind helps to keep it barrelling but in general, the offshore S breezes offer perfect conditions. The water temperature oscillates between 8 °C in the winter and 16 °C in September, the warmest month. In the summer you'll need a 4 mm wetsuit and a 5 mm in the winter with gloves, hood and booties. It's worth noting that geographically Thurso's high latitude means that it goes dark very early in the winter, around 3 pm, and during the summer the days are long with around 20 hours of light. The best time to travel there is at the end of the summer, during September and October, as it's when the first quality swells arrive, the climate is moderate and the days are still long, or in May or June when the water is cold but the days are longer and the spot is quite consistent.
For Thurso to work it needs a swell originating from anywhere between Iceland and Norway, or even further north in the Atlantic Ocean. WNW is very good but NW is better as the barrel holds from beginning to end. With N and NE Thurso loses its barrel and becomes more surfable. The drop in is accessible and it's an easy spot in that the current takes you back to the peak. It's better to paddle out to the west from the river if you're new to the spot, however there is another entrance point at the east of the peak which is faster but unsuitable if you're not familiar with it.
Una derecha de 100 metros que aguanta de 1 a 4 metros y que funciona mejor con marea media. El viento del SW hace aguantar el tubo, pero en general las brisas del S son de offshore y ofrecen condiciones perfectas. La temperatura del agua oscila entre los 8 grados en pleno invierno hasta los 16 grados en septiembre, el mes más cálido, en verano se necesita un neopreno mínimo de 4 mm, en invierno mínimo 5 mm, guantes, gorro y escarpines. Es necesario saber es que la alta latitud a la que se encuentra Thurso significa que en invierno a las tres es de noche y al contrario en el mes de junio hay luz durante veinte horas al día, por ello a partir de noviembre los días son extremadamente cortos. El mejor momento del año para viajar a este spot es a finales de verano, durante los meses de septiembre y octubre, aprovechando los primeros swell de calidad, la templanza del clima y que los días aún son largos, o por el contrario mayo o junio, cuando si bien el agua estará muy fría, el mar en esas fechas es bastante consistente y los días son los más largos.
Es necesario un swell procedente desde algún lugar entre Islandia y Noruega e incluso más al norte en el océano ártico para que la derecha de Thurso funcione. La componente WNW es muy buena pero es mejor de NW cuando el tubo funcione de principio a fin. Con N y NE Thurso va perdiendo tubo y se vuelve más surfeable. El 'drop in' es asequible, un spot fácil en el que la corriente te devuelve al pico y para entrar es mejor cerca del río si es la primera vez por el margen Oeste, hay otro punto de entrada al Este del pico, es más rápido, pero no apto si aun no estas familiarizado con el lugar.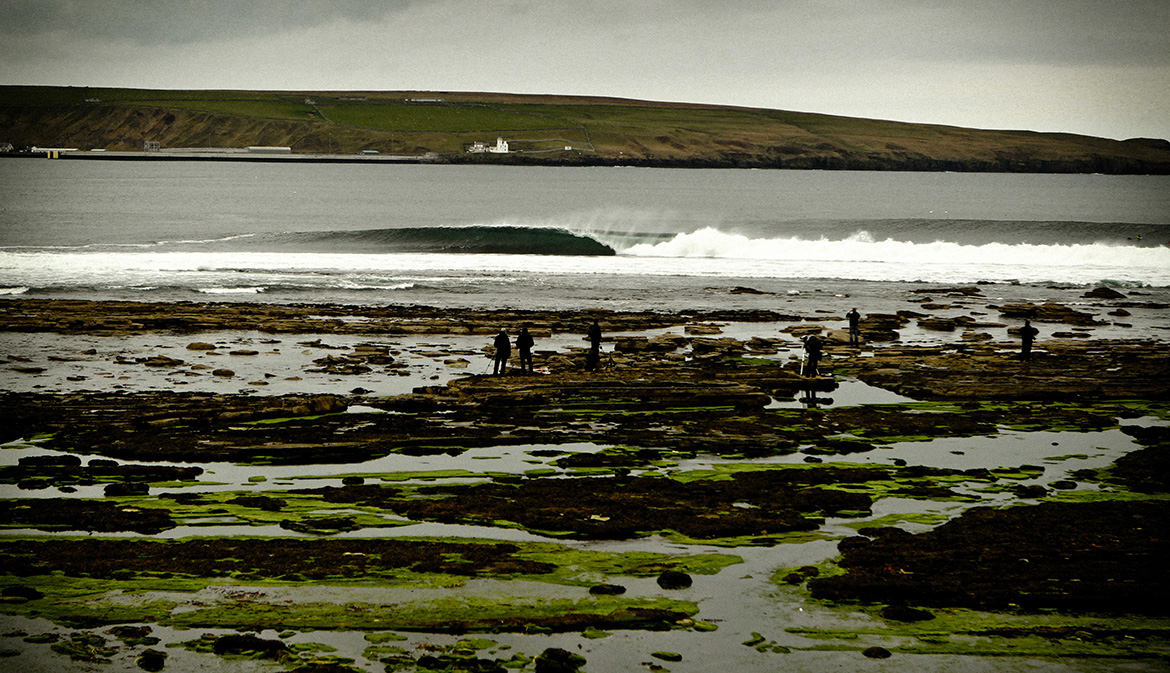 This right pointbreak is known as the best wave in the north of Scotland and possibly all of the northern coasts. The Thurso East is a world class barrelling wave which can be defined as being a mix between a long section of Jeffreys Bay and the Nias barrel, with the addition of the beautiful surroundings and the castle remains overlooking the peak. The Thurso East right can be found in the village of the same name, in Caithness, in the north eastern extremity of Scotland. The nearest airport is two hours away in Inverness and from there you can rent a car and drive up the scenic A9, the main road which links this area with the south of Scotland. If you rent a car, make sure you park responsibly in the farmyard in front of the break as it can be a bit tight, or alternatively in the harbour from where you can paddle out up the river to the line up.
The smooth topography of the kelp covered rocky bottom that's made up of slabs and stratified rock ledges at the mouth of the River Thurso that have formed over thousands of years has resulted in a maximum quality mechanical wave. Like other spots of this quality, it confirms that chance does not exist in surfing and thanks to this excellent bottom it doesn't matter if it breaks with one metre or three, or even with a slight onshore breeze because Thurso maintains its shape. Only a few waves in the world have these characteristics. It's important to note that you can't trust the conditions at Thurso because they can change radically in a short time, there can be nothing one minute and suddenly a one metre series, that will more than likely leave most clueless, can appear without warning. Be aware that in the winter the peat stained river that leads to the line up is freezing. The peak is very clear and the take off isn't complicated so the locals are tolerant as long as you respect them and the balance that rules this pointbreak. If it's not big enough, you have the option of the more exposed Brimm's Nest nearby.
The first surfer to appear in the area was the New Zealander Bob Treeby in 1973. Two years later, the Scottish Surf Federation was created and the championships began together with pioneers like Pat Kieran, Barbara Wilson and Sheila Finlayson. Chris Noble and Andy Brain are currently some of the best locals along with many that come from Fraserburgh and Point Northeast, other places with good peaks further south. Thurso East is now better known thanks to the successful competitions that have been held there recently, such as the O'Neill Cold Water Classsic, a WQS circuit stop.
Un pointbreak de derechas que reconocida como la mejor ola del norte de Escocia y posiblemente de todas las costas nórdicas. Sin duda una ola tubular de clase mundial que puede definirse como si fuera una mezcla entre una larga sección de Jeffreys Bay y el tubo de Nias, a esto le añades el bello entorno con el castillo que vigila el pico y el resultado es Thurso East. La derecha deThurso East se encuentra en la villa del mismo nombre, pertenece al condado de Caithness en el extremo norte de Escocia. Se llega por la carretera A9, la principal carretera que une esta area con el sur de Escocia. El aeropuerto más cercano es el de Inverness a dos horas en coche. Si has alquilado un coche, es muy importante aparcar con responsabilidad cerca de la ola o si no ir al puerto.
La suave topografía del fondo rocoso que ha configurado la desembocadura del Río Thor a lo largo de miles de años, dan como resultado una ola de calidad máxima. Al igual que otros spots de similar calidad, se confirma que la casualidad en el surfing no existe y debido a ese excelente fondo da igual que rompa con un metro que con tres, o incluso que haya un poco de brisas onshore porque las buenas formas de Thurso se mantienen, estas características se dan en muy pocas olas del mundo. Y muy importante decir que en Thurso no puedes confiarte con las condiciones, porque estas pueden cambiar radicalmente en muy poco tiempo, de pronto donde no había nada, pueden aparecer sin avisar series de un metro que seguro dejaran a muchos despistados. Atento en invierno al agua del rio que llega congelada hasta el line up. El pico es muy marcado y la ola no tiene un take off complicado por lo que los locales tienen la tolerancia justa si alguien no respeta el equilibrio que reina en este Point. Si hay poco tamaño cerca esta más expuesto Brimm's Nest.
El primer surfista que apareció en la zona fue el neozelandes Bob Treeby en el año 1973, dos años más tarde se creó la Federación Escocesa de Surf y empezaron los campeonatos junto a los pioneros Pat Keiran, Barbara Wilson y Sheila Finlayson. Actualmente destacar al bueno de Chris Noble y Andy Brain que son algunos de los mejores locales, también vienen muchos desde Fraserburgh y Point Northeast, lugares con buenos picos también. La ola de Thurso es mucho más conocida gracias a las competiciones que con gran éxito se han desarrollado los últimos años, el Oneill Cold Water Classic una prueba del circuito WQS.
It's an incredible wave spot but it can be hard if you go in the winter and there are no waves. If so, stay open minded and enjoy this incredibly beautiful place, the wildlife and the friendly locals. You'll find the best fish and shellfish in Scrabster Harbour which is just five minutes away from Thurso, along with most of the other restaurants in the area. You should also try the typical Scottich delicacies like haggis, neeps and tatties and of course a glass of Scotch whisky.
Thurso is the perfect place from where you can explore the cliffs of Dunnet Head and the Orkney Islands by ferry. The best rocky formations and most spectacular cliffs are to the west of Holburn Head. There are lots of traditional shops, cafes, bars and restaurants in the town centre. You can enjoy the views of the River Thurso whilst strolling along Janet Street and visit the Swanson Gallery and Caithness Horizons, a museum full of activities with a café and a souvenir shop. It's also worth visiting the nearest city, Inverness, which is two hours south and if you have time to go further you should visit Scotland's historical capital Edinburgh, four hours away, or just explore the Highlands.
Es un lugar increíble con olas, sin embargo puede ser duro si vienes en invierno y no hay olas, esto significa que siempre hay que tener un plan b, la mente abierta y disfrutar de un lugar espectacular, salvaje y de gente cálida. Es recomendable probar recetas típicas escocesas como Haggis, Nepes y Tatties. El mejor pescado y marisco puedes encontrarlo en el Puerto de Scrabster a cinco minutos de Thurso, aquí se encuentran la mayoría de restaurantes de la zona.
Thurso es el punto perfecto para acercarse a explorar los acantilados de Dunnet Head y Orkney Islands en un paseo en ferry. Las mejores formaciones rocosas y acantilados más espectaculares quedan al oeste de Holburn Head. En el centro de la ciudad hay un montón de tiendas tradicionales, cafés, bares y restaurantes. Puedes pasar por Janet Street con vistas al Río Thurso, además de visitar la Swanson Gallery y Caithness Horizons, un museo repleto de actividades, con cafetería y tiendas de souvenirs. La ciudad más cercana es Inverness, que bien merece una visita, a dos horas al sur. Con más tiempo, a unas cuatro horas se encuentra la bonita capital de Escocia, Edimburgo.