Topocalma / Chile – Windsurf – Litueche – O'Higgins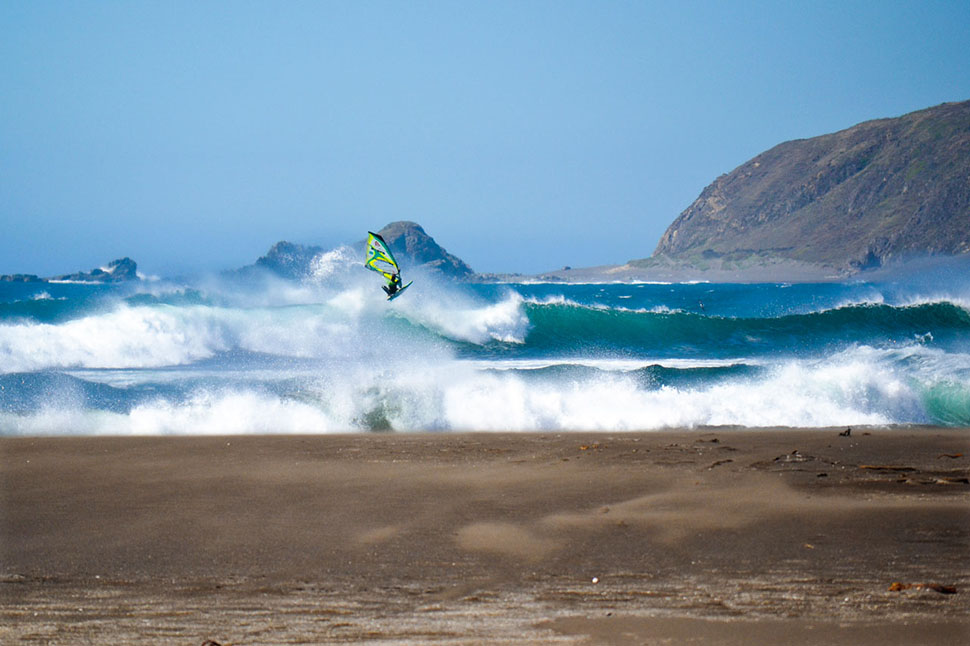 | | |
| --- | --- |
| Wave | |
| Ola | |
| Wind | SSW |
| Tide | Low - Hight |
| Marea | Baja - Alta |
| | |
| --- | --- |
| Swell | S, SW, W, NW |
| Bottom | Sand |
| Fondo | Arena |
| Time of year | September to April |
| Época del año | Septiembre a Abril |
Topocalma is without doubt one of the best waves for windsurfing in Chile. It breaks on a sandbank and the wave always opens up into a very organised and powerful left, giving great sections for aerials and other tricks. The side-offshore wind can be quite gusty and tends to pick up a lot in the afternoon. You'll normally start with your largest sail and end up changing it for the smallest one in the afternoon. The wave is very glassy and if you break your equipment it's not a problem because the beach is sandy so it's easy to get out of the water.
Topocalma es sin duda una de la mejores olas para windsurf de Chile. La ola rompe sobre un banco de arena y abre de izquierda muy ordenada, es potente con muy buenas secciones, tanto para aéreos como para otros trucos. El viento suele ser bastante racheado y es side offshore, suele subir mucho por la tarde. Normalmente se empieza a navegar con vela más grande y acabas montando la vela más pequeña a última hora. La ola es muy glassy y si rompes el material no hay problema porque es una playa de arena con fácil acceso.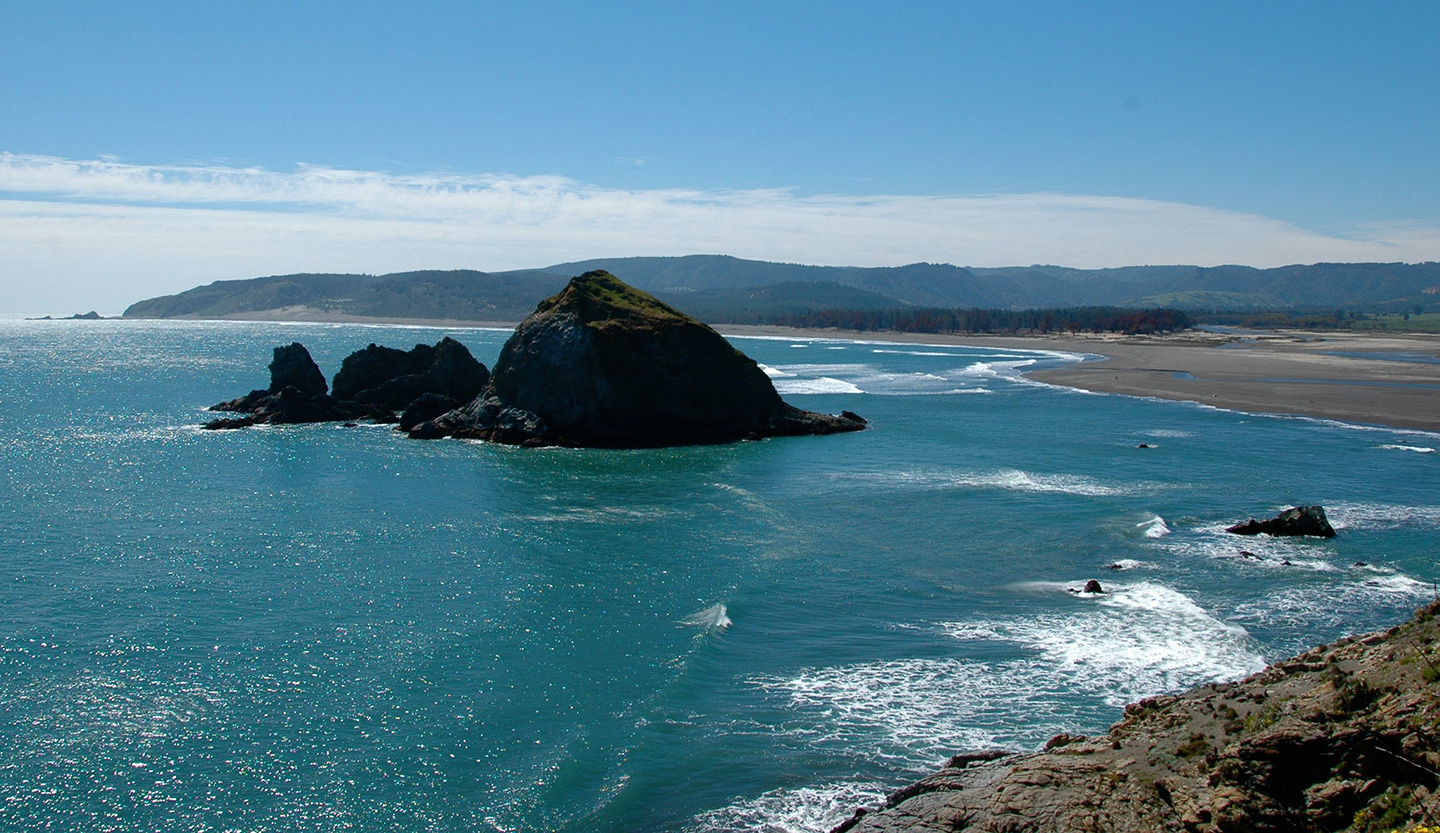 Topocalma is a beach in the Litueche commune, 45 kilometres from Pichilemu. It's a windsurfing sanctuary where you'll find five peaks with impressive lefts and one of the world's best breaks with side-offshore wind. The wind usually arrives at ten in the morning and picks up until midday, with SW component and between 25 and 35 knots in season. The waves are clean and it's very easy to enter the water. International events are held there, such as the Topocalma Infernal. From one of the hills you can take in the marvellous landscape that surrounds the spot, the five kilometres of beach and forest that together give Topocalma its unique characteristics.
It's not easy to get to this spot, but you can follow these directions if you go from Santiago. From the Sol highway in the direction towards San Antonio, you'll reach a fork in the road and you should head towards Melipilla, take the road that takes you to the crossroads and from there head towards the centre of Rapel, in fifteen minutes you'll have left it behind and you'll reach Litueche village. From this point, it's just 30 kilometres more along a dirt road to Topocalma.
Topocalma es una playa situada en la Comuna de Litueche, a 45 kilómetros de la ciudad de Pichilemu. Es un santuario para el windsurf donde puedes encontrar cinco picos de izquierdas impresionantes y una de las mejores rompientes con viento side off shore del mundo. El viento suele comenzar a las diez de la mañana y sube a partir de la una del medio día, de componente SW, en temporada puede haber de 25 a 35 nudos. Las olas son limpias y la entrada al agua es muy fácil. Se han celebrado eventos a nivel internacional como el 'Topocalma Infernal'. Desde uno de los cerros podrás contemplar el maravilloso paisaje que rodea el spot, los casi cinco kilómetros de playa y bosque que confieren a Topocalma unas características únicas.
Llegar a este spot no es fácil, pero sigue las siguientes indicaciones si partes desde Santiago. Por la autopista de Sol con dirección hacia San Antonio, debes salir en la bifurcación hacia Melipilla, tomar la carretera que te llevará al cruce de las arañas y desde aquí dirigirse a la central de Rapel, en 15 minutos la habrás dejado atrás y llegarás al pueblo de Litueche. Desde este punto solo quedan 30 kilómetros de camino de tierra hasta la hacienda de Topocalma.
Departing from the same beach in Topocalma, 25 kilometres north you'll find various other spots that are recognised worldwide like Pupuya, Matanzas, Roca Cuadrada and La Boca. If you go 45 kilometres south you'll be in Pichilemu and there you'll find the famous Punto de Lobos beach.
In Pichilemu you can enjoy the extraordinary nature, incredible beaches and indescribable marine life, with a bit of luck you'll be able to see grey whales. You can't miss the emblematic 'Morros' (big rock promontories) that decorate Punta de Lobos. There are many interesting rural routes, like La Ruta de San Andrés, with tourist services, and La Ruta de la Sal which is approximately 25 kilometres long, starts in Cáhuil and offers a combination of crafts, ranches, museums and intriguing nature.
Partiendo desde la misma playa de Topocalma, hacia el norte unos 25 kilómetros, podrás encontrar varios spots reconocidos mundialmente como Pupuya, Matanzas, Roca Cuadrada y La Boca. Si viajas en dirección sur, a 45 kilómetros se localiza Pichilemu, donde se encuentra la famosa playa de Punta de Lobos.
En Pichilemu podrás gozar de una naturaleza privilegiada, de increíbles playas y de una indescriptible vida marina, con un poco de suerte podrás ver a las ballenas grises. No puedes perderte los emblemáticos "Morros" que adornan Punta de Lobos. Existen circuitos rurales muy interesantes, la Ruta de san Andrés, con servicios turísticos interesantes y la Ruta de la Sal, la cual tiene una extensión aproximada de 25 km iniciándose desde Cáhuil y ofrece una combinación de artesanía, ranchos, museos y atractivos naturales.