Trestles / United States – Surf – Orange County – California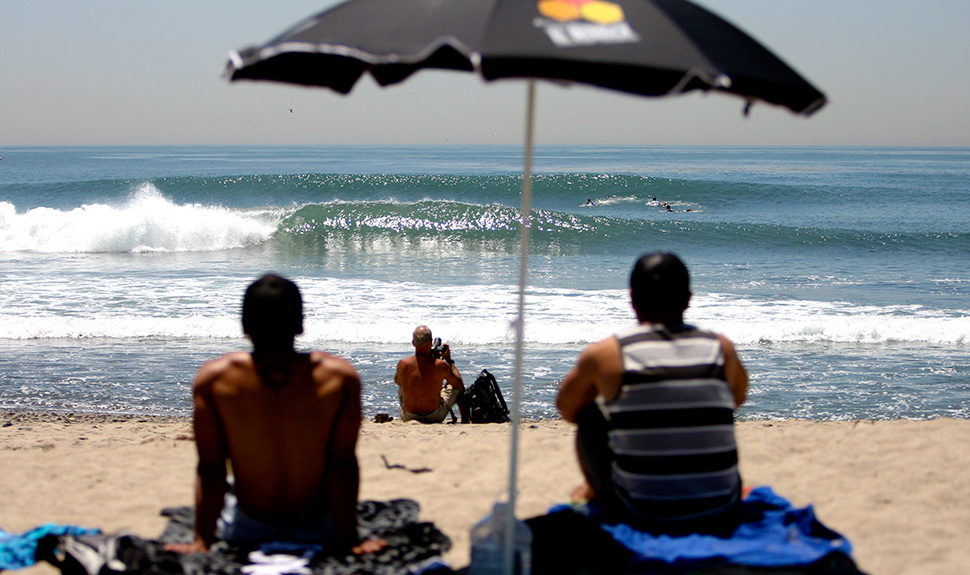 | | |
| --- | --- |
| Wave | Izquierdas y derechas |
| Ola | Lefts and rights |
| Wind | NE |
| Tide | Medium |
| Marea | Media |
| | |
| --- | --- |
| Swell | S - SW |
| Bottom | Sand - rocks |
| Fondo | Arena - rocas |
| Time of year | All year round |
| Época del año | Todo al año |
Trestles isn't necessarily a place which requires a high level because it's suitable for all, however, it's essential to know which, when and how its peaks work. If the conditions are good at Trestles, the most important thing to know is the swell direction, as the arc formation of the Channel Islands, San Nicolas Island and San Clemente Island, creates a barrier or a window depending on the swell. The Trestle playground is composed of the Cottons, Uppers, Lowers, Middles and Church peaks which work with any tide. The best swells are definitely S-SW as they are the most consistent and come in the summer following the storms formed south of Tahiti. With WSW, the swell needs to be big for it to generate waves and with WNW it's difficult to get good waves apart from at Uppers and Church. You'll find the best conditions early in the morning when it's glassy or with a light NE breeze.
From north to south, the first peak, Cottons, is highlighted by a left which works well at low tide and with SW swells, the bigger the better. Uppers is mainly a right with various take off zones and it works better in the winter with W and WNW. The seabeds influence the wave dynamics a lot, more there than at any other Trestles peak as it's the closest to the San Mateo Creek estuary. Lowers is the perfect A-Frame that made Trestles internationally famous. It has a tight take off zone with a cobblestone bottom. The left is fast and punchier than the right which is longer and perfect for big curves. It works from 2 to 10 feet but it's incredible when it's glassy with 4 to 6 feet. With these conditions at Lowers, if everything else goes well, you're surfing will be at its best. Lowers is possibly the most rideable peak in the world as its dynamics and big, long, walls make it a pleasure to surf without big risks as it's not a hollow wave peak and there aren't any coral beds. Middles is slightly lower down and it is similar but a little gentler than Lowers, making it ideal for beginners and longboarders.
Church is the last peak and it produces good waves, including barrels, with strong WNW swells at mid to high tide. It also works with SW but when there's too much S it gets too sectioned and doesn't work well. Just be careful of the rocks when you go in and out of the water and watch out for sea urchins, jelly fish and insects around the rivers, and snakes during the rainy season. Also, remember that it's not a warm water spot, at any time of the year, so you'll need a 3 mm wetsuit at least.
Trestles se adapta a cualquier nivel, sin embargo, es esencial conocer cuáles son y cómo funcionan sus picos. Lo más importante en Trestles, para saber si habrá buenas condiciones, es saber la dirección del swell, ya que el arco de islas formado por Channel Islands, San Nicolas Island, San Clemente Island, todas se encuentran situadas justo en frente de la costa y hacen de barrera o ventana a según qué swell. El playground de Trestles se compone de los picos de Cottons, Uppers, Lowers, Middles y Church, todos funcionan con cualquier marea. Sin duda los mejores swell son de S – SW, estos son los más consistentes, se dan en verano y proceden de tormentas formadas al sur de Tahiti, con ellos todos los picos funcionan. Con WSW la fuerza del swell debe ser mayor para que haya olas, y con dirección WNW es muy difícil que haya buenas olas, tan solo en Uppers y Churchs. Sin duda las mejores condiciones se dan por la mañana temprano con el mar glassy o con ligeras brisas de NE.
De norte a sur, el primero es Cottons. Destaca con una izquierda que funciona bien con marea baja y mares de SW, cuanto más grande mejor. Uppers es mayormente una derecha con varias zonas de take off, funciona mejor sobretodo en invierno con W y WNW. Aquí los fondos influyen mucho en la dinámica de la ola, más que en ningún otro pico de Trestles debido a que se encuentra más cercano de la desembocadura de San Mateo Creek. Lowers es el perfecto A-frame que ha hecho tan famoso a Trestles a nivel internacional, posee una ajustada zona de take off con fondo de bolos. La izquierda es rápida y con más choque que la derecha, que sin embargo es más larga y perfecta para grandes curvas. Funciona de 2 a 10 pero lo increíble es cuando esta glassy con 4 a 6 pies. Con estas condiciones en Lowers, si el resto acompaña tu surfing, podrá llegar a su máxima expresión. Hay que destacar que Lowers es posiblemente el pico más surfeable del mundo, sus buenas formas y largas paredes hacen que surfear sea un placer sin grandes riesgos, no es un pico de olas huecas o con fondos coralinos. Middles un poco más abajo es similar pero un poco más suave que Lowers y por ello ideal para principiantes y longs.
Church es el último pico, produce buenas olas e incluso algún tubo con fuerte swell de WNW y con marea media-alta. También funciona con SW pero con demasiado S se secciona y no funciona bien. Prestar atención a las rocas al salir y entrar del agua, los erizos, medusas, insectos próximos a los ríos y serpientes en época de lluvias. Por otro lado, durante todo el año no es un lugar de aguas cálidas, por lo que será importante tener en cuenta que incluso en verano un 3 mm es obligatorio.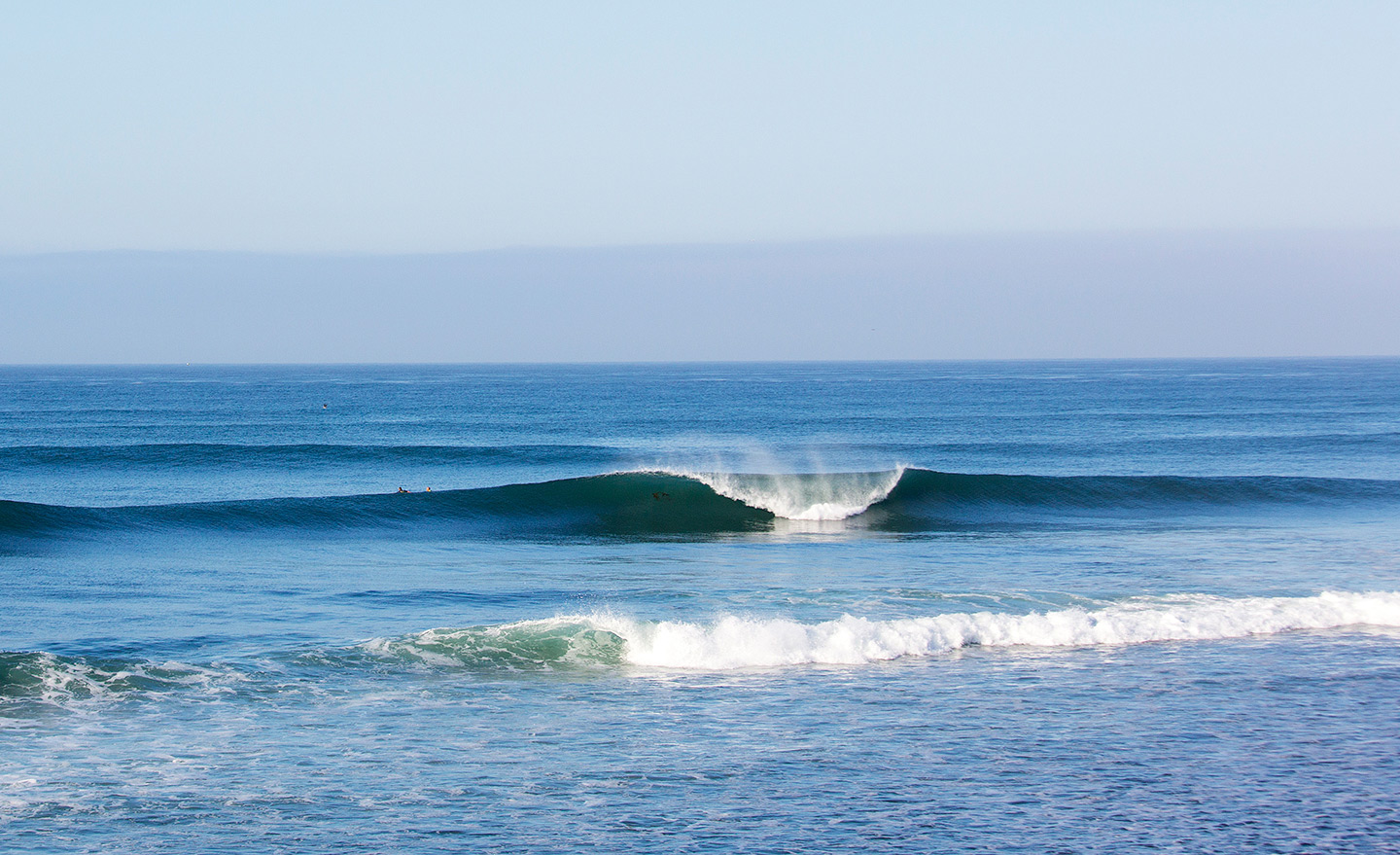 Trestles is one of the South Californian jewels and one of the most versatile spots in the world. It's located in a well conserved natural environment and a large part of the community take part in some sort of outdoor activity. The variety of peaks and the wave dynamics make Trestles like a skatepark in the ocean, offering perfect ramps for learning, progressing, training and above all, enjoying. It's the perfect place for most, and therefore one of the busiest spots in the world. Trestles is just over an hour away from the south of Los Angeles if you follow Highway 5, passing San Clemente or approximately one hour north of San Diego again following Highway 5. From Highway 5, take the Cristianitos exit. Parking is easy if you go early and you just have to follow the trail down to the beach. The other option is to take the Basilone exit from the highway (a little further south of Cristianitos) and park in the State Beach Area car park.
In the sixties many people from Los Angeles already knew about the place but there was a time when Trestles was occupied by a military base and those who dared to cross the line had their surfboards confiscated. From 1971, thanks to the pressure from the local surfers, the Californian government annulled the restrictions, opening Trestles to the whole community and now, although some would have preferred that Trestles stayed in the hands of the marines because of the fear of environmental degradation, the natural environment is actually very well conserved and this is very valuable for the whole of the Orange County community. It is in fact, where you'll find San Onofre State Beach, which forms part of the state network for the protection and management of some natural areas of interest in California.
There are various things that justify the quality of the breaks. The first is the geographic evolution and the accumulation of the residue from the rivers which has contributed to the perfect configuration of the seabed and there is a peak at each river mouth. From north to south, these are Cottons, Uppers, Lowers, Middles and Church and of those, the most famous and most coveted is Lower Trestles. It's a peak which was originally a righthander but at the beginning of the eighties, the meteorological phenomenon known as 'El Niño' changed the dynamic and the bottom, generating an incredible A-Frame. It's now a peak which when there are good conditions, becomes absolutely perfect to surf and generates a left that is logically for most goofys the best wave in the whole of Trestles. Keep in mind that like in the rest of California, the level at the main peaks is high and the atmosphere is sometimes competitive but always pleasant as there is a lot of culture and respect. The sensation you'll get from surfing there is special and the waves are so good that you'll surely feel that your level has soon increased. Some names that you could find there are the Gudauskas brothers, Tanner, Dane and Patrick along with Chris Ward, Nat Young, Christian and Nathan Fletcher, Nathan Yeomans, Ian Crane, Dino Andino with his son Kolohe or the famous Anastasia Ashley, and the longboarders Herbie Fletcher, Christian Wach, Joe Aaron and Lindsay Steinriede, just to name a few of the long list of known regulars that frequent Trestles.
The deep water, big wave spot, Cortes Bank Reef is 100 miles off this coast. It's incredible how this mountain in the middle of the sea, which has been a huge danger for sailors for hundreds of years, generates one of the biggest waves in the world. It's adored by Mike Parsons, Greg Long and Brad Gerlach, and is where one of the most waited for events of the WCT is celebrated, currently the only one in North America and which has been an official ASP event since 2000. It's normally celebrated in September and generates huge expectations as the best international and local surfers meet, accompanied by thousands of fans, converting Trestles into the world's surf capital for a few days.
Trestles es una de las joyas del Sur de California, para muchos uno de los spot más polivalentes del mundo. Está localizado en un entorno natural protegido con el que la comunidad está muy sensibilizada, un lugar al que todo el mundo de la zona viene no solo a surfear sino a practicar multitud de actividades al aire libre a pie de playa. La variedad de picos y la dinámica de las olas hacen que Trestles sea como un skatepark oceánico que ofrece rampas perfectas para aprender, progresar y sobretodo disfrutar. Este lugar es perfecto para casi todos y por eso es uno de los lugares con más afluencia del mundo. A Trestles se tarda una hora desde el sur de Los Angeles por la Autopista 5. Desde San Diego se llega en dirección norte igualmente, en aproximadamente una hora por la misma Autopista. Desde ambas capitales hay que salir por Cristianitos. Al salir de la Autopista se puede aparcar fácil si vas temprano y bajar por el camino hasta la playa. Otra opción es salir por Basilone, una salida un poco más al sur de la salida de Cristianitos y aparcar en el Parking de State Beach Area.
Curiosamente hubo un tiempo en el que Trestles estuvo ocupada por una base militar, los militares incluso confiscaban las tablas de surf a aquellos que osaban traspasar la línea, son muchos los que desde Los Angeles en los sesenta ya conocían este lugar. A partir de 1971 el gobierno de California gracias a la presión sobretodo de los surfistas anuló esas restricciones abriendo Trestles a toda la comunidad y actualmente aunque algunos hubieran preferido que Trestles siguiera en manos de los marines por la notable degradación del entorno, la verdad es que este entorno natural está bien conservado y es muy valioso para toda la comunidad de 'Orange County', de hecho esto es 'San Onofre State Beach' formando parte de la red estatal para la protección y gestión de algunas áreas de interés natural en California.
Hay varias razones para justificar la calidad de estas rompientes, la primera es que la evolución geológica y la acumulación de materiales por parte de los ríos ha hecho que la configuración de los fondos marinos sea perfecta y en la boca de cada rio se encuentre un pico, estos son de norte a sur, Cottons, Uppers, Lowers, Middles y Church. De ellos el más famoso y codiciado es Lower Trestles, un pico que en sus orígenes fue solo una derecha, pero a principios de los ochenta el fenómeno meteorológico conocido como el Niño cambió la dinámica y el fondo, generando un increíble A-Frame. Actualmente es un pico que con buenas condiciones es absolutamente perfecto para surfear, y genera una izquierda que para muchos goofys es la mejor ola de todo Trestles. Hay que tener en cuenta que, como en el resto de California, el nivel en los picos principales es alto y el ambiente es a veces competitivo, pero por encima de todo es normalmente agradable porque la cultura y el respeto es máximo. La sensación de surfear aquí es especial y las olas son tan buenas que sentirás que tu nivel de pronto ha subido. Algunos nombres que podremos encontrar por aquí son los hermanos Gudauskas, Chris Ward, Nat Young, Christian y Nathan Fletcher, Nathan Yeomans, Ian Crane, Dino Andino con su hijo Kolohe Andino o Anastasia Ashley y longboarders como Herbie Fletcher, Christian Wach, Joe Aaron, Lindsay Steinriede, estos nombres son tan solo unos cuantos de una inacabable lista de conocidos y habituales en trestles.
Es interesante saber que a 100 millas de la costa se encuentra el Arrecife de Cortes Bank, conocido spot de olas grandes en aguas profundas. Esta montaña en medio del mar ha sido un peligro constante para la navegación durante cientos de años, y genera una de las olas más grandes del mundo, adorada por riders como Mike Parsons, Greg Long o Brad Gerlach. Y por último, destacar una de las pruebas más esperadas de la élite del WCT que se celebra en Lowers Trestles, actualmente es la única en Norteamérica y lleva celebrándose de manera oficial por la ASP desde el año 2000, normalmente en Septiembre. Esta prueba genera una gran expectación, y reúne a todos/as los mejores surfistas, tanto locales como mundiales, acompañados de miles de aficionados convirtiendo por unos días a Trestles en la capital del mundo del Surf.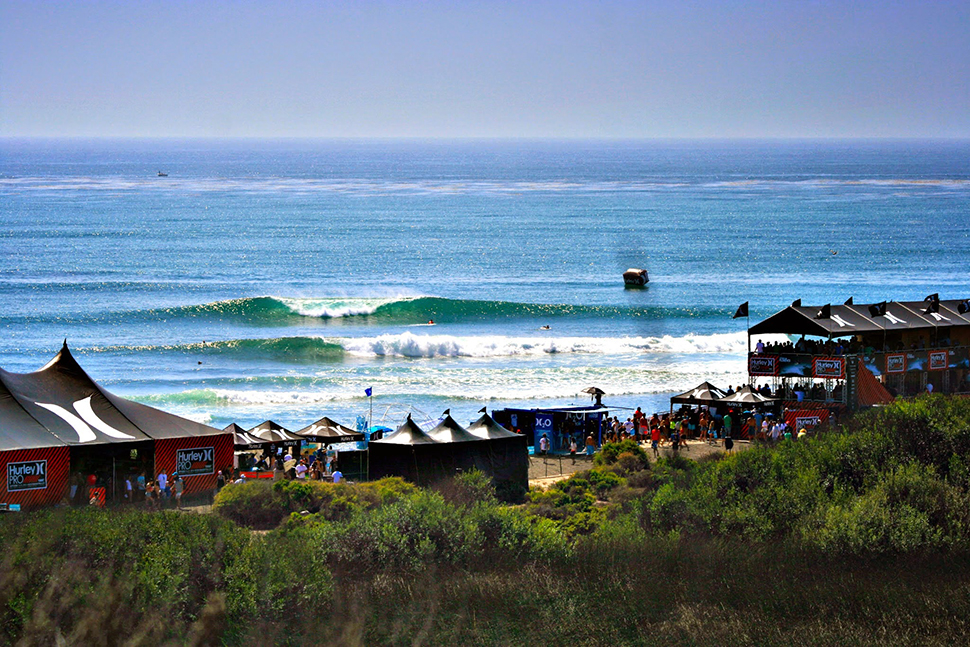 San Clemente is halfway between Los Angeles and San Diego, 55 kilometres north and south respectively. It is said that the architecture in the city centre resembles that of a Spanish village, giving it a Mediterranean feeling. The San Clemente pier is also well known, and around it you'll find restaurants, bars, parks and shops. It's also a great place to watch the sunset from. You can also walk next to the railway line along the Coastal Trail and enjoy the magnificent views of the beach and the surroundings.
San Onofre State Beach is a nature reserve that includes the beach, San Mateo Creek and Talega Canyon. It's very popular for camping, fishing and picnic outings. The Richard T. Steed Memorial Park is north and there you can enjoy different sports facilities, among those a public skatepark with various sized bowls, curved edges, quarters and a central multi-funbox.
San Clemente se encuentra a mitad de camino entre Los Angeles y San Diego, a unos 55 kilómetros al Norte y al Sur respectivamente. Se dice que la arquitectura del centro de la ciudad se asemeja a la de un pueblo español, manteniendo una sensación mediterránea. El muelle es algo muy conocido en San Clemente, alrededor del mismo encontrarás restaurantes, bares, parques y tiendas, además de poder contemplar un atardecer espectacular. También se puede pasear junto a la vía del ferrocarril por el sendero Coastal Trail que sigue la costa, con unas vistas magníficas de la playa y el entorno.
San Onofre State Beach es una reserva natural que abarca la playa y la rivera del San Mateo Creek y Talega Canyon. Es muy popular acampar en este lugar donde se practica la pesca y el picnic. Al norte se encuentra Richard T. Steed Memorial Park, donde puedes disfrutar de diferentes instalaciones deportivas, entre ellas un Skatepark público que cuenta con bowls de diferentes tamaños, bordillos en curva, quarters suaves y un multifunbox central.
En la Calle Iglesia, cerca del Skatepark, se localiza el Surfing Heritage Foundation. Una visita donde conocer más sobre la historia del surf local, deleitarse con galerías de arte, exhibiciones, colecciones, eventos y mucho más.