Zavial / Portugal – Surf,Bodyboard – Raposeira – Algarve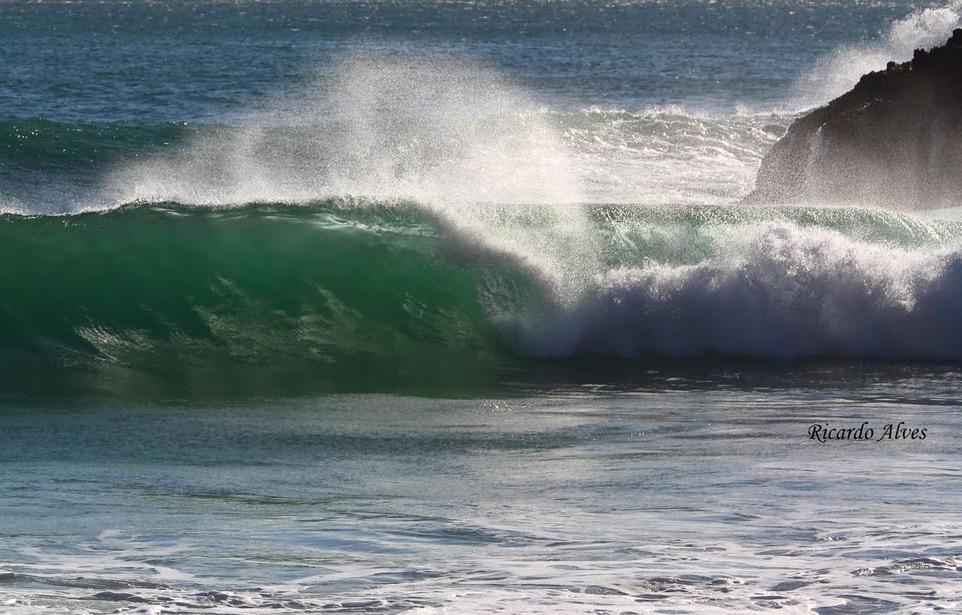 | | |
| --- | --- |
| Wave | Beachbreak |
| Ola | Playa |
| Wind | N - NW |
| Tide | Low - Medium |
| Marea | Baja - Media |
| | |
| --- | --- |
| Swell | S - SW - W |
| Bottom | Sand |
| Fondo | Arena |
| Time of year | From September to May |
| Época del año | Desde Septiembre a Mayo |
For many, it's the best wave in the region and it honours its fame during the winter months, between November and March, with a high probability of good days. If the waves are bigger than 5 feet or if it phases out on the west coast, Zavial will surely be working. It works best with moderate W or strong NW swells and the good wind directions are N, NW and even W. The best tide is from low to mid, bearing in mind that at high tide the two main peaks will be without waves, in addition, you can see how they are affected by the rebound of water from the rocks in front.
It starts working from 2 feet and from there onwards it's very good along the whole beach. With 5 or 6 feet it requires a good level because the two main peaks at the right of the beach are fast. The wave can hold until about ten feet but logically there are few who accept the challenge because the wave and the currents require the highest level. It's important to ask about the sandbanks here because they are very changeable throughout the year.
Para muchos es la mejor ola de la región y hace honor a su fama en los meses de invierno, entre noviembre y marzo con una mayor probabilidad de días buenos. Si en la costa oeste hay desfase o hay olas por encima de 5 pies Zavial seguramente estará funcionando. Los mejores swells son moderados del W o fuerte NW, los vientos buenos son N, NW e incluso W. La mejor marea es de baja a media teniendo en cuenta que llegando a la alta se queda sin olas en los dos picos principales y además las se ven muy afectadas por el rebote del agua con las rocas de enfrente.
Empieza a funcionar desde 2 pies y de ahí en adelante es muy buena a lo largo de toda la playa. Con 5, 6 pies exige nivel porque es una ola muy rápida en cualquiera de los dos picos principales de la derecha de la playa. Decir que aguanta hasta los 10 pies pero lógicamente son muy pocos los que aceptan ese desafío ya que las corrientes y la ola que se genera exige los niveles más altos. En Zavial es muy importante preguntar por el estado de los bancos de arena porque son muy cambiantes a lo largo del año.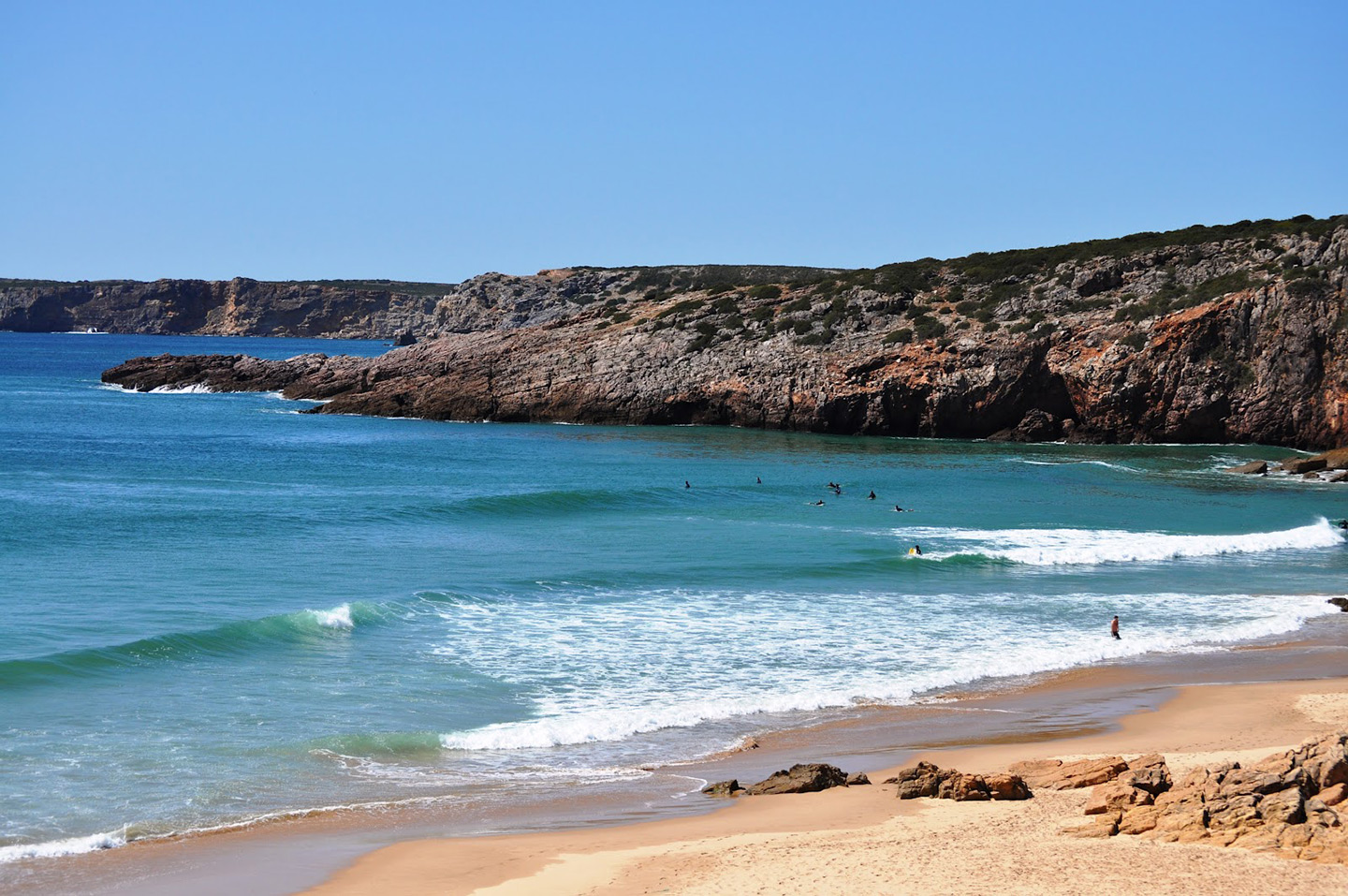 Zavial is a large beach in the south of the Algarve, only a few minutes away from Sagres. Its cliffs protect it from the strong winds which often batter this area. It's surprising how when there is a hard winter like day with onshore wind on the west coast, in Zavial it can be a nice day with a little offshore and organised sets. It's easy to get to by car from the main road and it's well signposted. Between the easy access, the wave quality and its proximity to Sagres, Vila do Vispo is one of the busiest places, especially when the west coast phases out. In this case, it's better to get there early to be sure to get a parking space.
There are two main peaks which you can see from the rocks on the right side of the beach. The first peak is in front of the parking area and it could possibly be the best right-hand barrel in the Algarve. The second peak can be seen by looking towards the west. It's right in front of the cliff on the right. The second peak is mechanical, very rideable and fun for manoeuvers so it's popular with the locals. The most important thing is that in general, Zavial offers quality waves for all levels. When the sea isn't too heavy, there are various peaks along the length of the beach towards the left. Many schools go there and there is always a good atmosphere. When the sea is heavier, the best surfers in the Algarve meet there and you'll be able to see some high quality big barrels. There's always a good reason to visit Zavial, one being to eat in its famous restaurant which provides excellent sea views.
Zavial es una extensa playa situada en la costa Sur del Algarve, a pocos minutos de Sagres, sus acantilados protegen de los fuertes vientos de componente noroeste que muchas veces azotan esta zona. Es sorprendente como un duro día de invierno con viento onshore en la costa Oeste, aquí se convierte en un agradable día con un poco de offshore y un mar ordenado en el cual solo entran las series. Podrás acceder fácilmente en coche desde la carretera general, el camino está bien indicado y por ello entre la calidad de sus olas y la cercanía a todos a Sagres, Vila do Vispo es uno de los lugares más concurridos, sobre todo cuando se desfasa la costa Oeste y todo el mundo pasa por aquí. En ese caso es mejor venir temprano para asegurar una plaza en el parking.
Hay dos picos principales, esto se puede observar desde las rocas que hay a la derecha de la playa, desde ahí la visión es muy buena y seguro que pasarás largos ratos observando desde ahí y pensando en tu próxima sesión. El primer pico sale en frente del parking y es posiblemente el mejor tubo de derecha del Algarve. El segundo pico mirando al Oeste pegado al acantilado de la derecha, este último es un pico mecánico, muy surfeable y divertido para maniobras, por ello es muy frecuentado por locales. Lo más importante es que en general Zavial ofrece olas de calidad para todos los niveles, cuando hay poco mar salen varios picos a lo largo de la playa hacia la izquierda, muchas escuelas vienen aquí y siempre hay mucho ambiente. Los días que hay mucho mar aquí se reúnen los mejores surfers del Algarve y se pueden ver tubos grandes y de una calidad muy alta. Siempre hay alguna razón por la que venir a Zavial incluso su famoso restaurante con vistas al mar.
The Costa Vicentina Natural Park offers many ways to enjoy various outdoor activities. You could explore the cliff paths in the western part or visit the ruins from the XVII century fort which is very near to the beach. The routes are very picturesque with the colourful contrast of the juniper shrubs and the deep blue sea. The area is valued for diving, and its steep cliffs with scattered caves and hidden beaches make it an excellent place to enjoy kayaking. At Zavial Beach Hostel, near to the beach, there are various options available for renting equipment or organising other nautical activities.
Enclavada en una zona natural protegida, el Parque Natural de la Costa Vicentina ofrece grandes posibilidades para el disfrute de distintas actividades al aire libre. Perderse por los caminos de los acantilados de la zona occidental es una opción a tener en cuenta, podrás visitar muy cerca de la playa las ruinas de una fortificación del siglo XVII y tanto los caminos bordeados de matorrales de enebro, como el fondo marino de azul intenso ofrecerán una bella estampa. La zona es muy valorada para el buceo y sus escarpados acantilados con cuevas dispersas y playas escondidas lo hacen un lugar estupendo para disfrutar de travesías en kayak. En Zavial Beach Hostel, cercano a la playa tendrás opción de alquiler de equipos y contratación de servicios para la práctica de distintas modalidades náuticas.